Two American moms are pleading with politicians to grant paid parental leave in the United States. The mothers believe if they hadn't had to put their newborn sons in daycare, their boys would be alive today.
In an open letter posted Monday on USA Today, Amber Scorah and Ali Dodd described their respective tragedies.
Scorah, who lives in Brooklyn, dropped off her son, Karl, for his first day of daycare back in July 2015. "When she came back to feed him at noon, Karl's lips were blue and a child care worker was performing CPR. It could not be determined why this healthy baby died."
She hadn't wanted to put her son in daycare when he was barely three-months-old, but she didn't have a financial choice.
"As the end of my leave drew near, I asked my company for more time off, without pay," Scorah wrote in a blog for The New York Times. "I was told by the HR department that there was no system in place that allowed for extending maternity leaves. I went higher up the chain. Just two more months? There was nothing that could be done. The only option would be to quit."
Similarly, Dodd, who lives in Oklahoma, had to return to work when her son Shepard was just 11-weeks-old in April of last year. "A child-care worker swaddled him for a nap, placed him in a car seat and didn't check on him. He slipped down and suffocated, still too little to lift up his own head."
"No parent should have to choose between leaving their baby too soon and making ends meet."
In their letter, Dodd and Scorah make a clear request: "We believe that infants need to be with their parents at the beginning of their lives. And we are jointly calling on our parties, Republican and Democrat, to put aside their differences and pass job-protected, paid parental leave, for the sake of all American babies."
The United States is one of the only countries in the world that doesn't grant any sort of paid parental leave for moms and dads. Some companies, like Etsy and Facebook, are not waiting for government-sanctioned leave and have created their own policies for new moms and dads. But that still leaves most American parents in the lurch.
Dodd and Scorah cite a study by The Center for Law and Social Policy that indicates "one in four American mothers have no choice but to return to work within two weeks of giving birth; 87 per cent of parents have no access to paid leave through their employers."
The two moms started a petition on Change.org, "calling upon the presidential candidates of both parties to publicly commit that, if elected, they will take action for paid family leave policy in their first 100 days in office." They already have more than 2,000 signatures.
As the moms so eloquently wrote: "No parent should have to choose between leaving their baby too soon and making ends meet."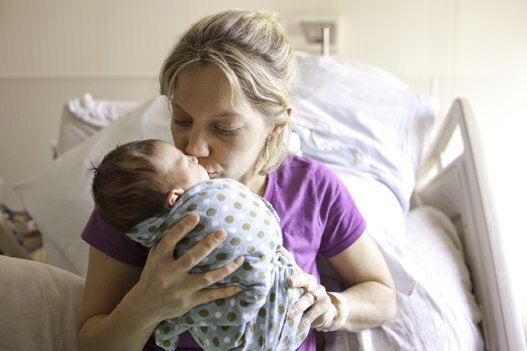 5 Countries With No Maternity Leave