WASHINGTON — A Treasury official says Secretary Jacob Lew has decided to put Harriet Tubman on the $20 bill, making her the first woman on U.S. paper currency in 100 years. The official, who spoke on condition of anonymity in advance of Lew's official announcement, says that the 19th century abolitionist and leader of the Underground Railroad, would replace the portrait of Andrew Jackson, the nation's seventh president. Tubman was a 19th-century abolitionist who helped some 70 families escape slavery in the U.S. south by way of the Underground Railroad. She helped many families escape to Canada, and helped them find work on arrival.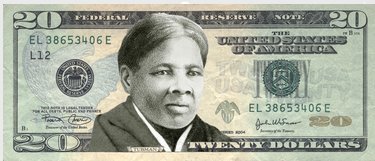 Tubman was the people's choice in a 2015 poll asking which woman should replace Andrew Jackson on the U.S. $20 bill. This design comes from the organization that carried out the poll, and is not the U.S. Treasury's design. (Image: Women on 20s)
The announcement is expected to provide details on other changes being made to the $20, $10 and $5 bills. The decision to place Tubman's portrait on the $20 likely means that Lew has decided to keep Alexander Hamilton on the $10 bill, a victory for those who had opposed his initial plan to remove Hamilton. Canadian Finance Minister Bill Morneau
announced earlier this year
he intends to put a woman's face on a Canadioan banknote.
— With a file from The Huffington Post Canada
Like Us On Facebook
Women Who Could Be On New Canadian Bill