Vancouver teachers have been reminded to reject 4/20 as a legitimate excuse from students for missing class on Wednesday.
A one-page notice from the Vancouver School Board was sent in lead-up to the annual counterculture holiday that celebrates marijuana on April 20.
"Students are aware of '4/20,' and schools report a number of students who either leave school to attend the '4/20' gathering, or use '4/20' as an excuse note to attend school that day," read the note from the board's substance use prevention initiative earlier this week.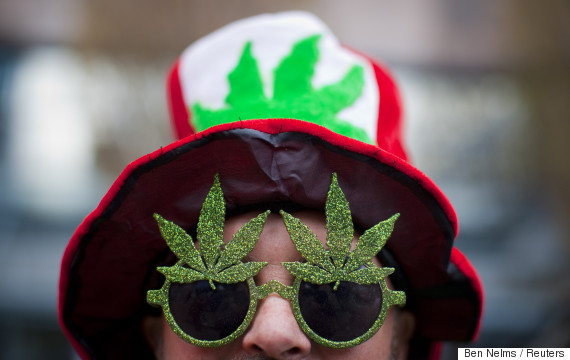 A man, wearing a marijuana-themed hat and sunglasses, is pictured at the Vancouver Art Gallery during the annual 4/20 day, which promotes the use of marijuana, in Vancouver, B.C. on April 20, 2013. (Photo: Ben Nelms/Reuters)
It also offered a reminder that April 20 is a regular school day and class attendance will be taken. A disclaimer was also added that the school board doesn't condone students participating in 4/20 events "for many reasons."
Nancy Brennan, the school board's associate superintendent of learning service, told CBC News the note's intention was to ensure students and their parents are "well-informed as possible."
City of Vancouver rolls with it
For more than two decades, 4/20 celebrations have been centralized outside the Vancouver Art Gallery.
The annual event drew upwards of 30,000 people and at precisely 4:20 p.m., the sound of thousands of lighter flints signals a billowing cloud of marijuana smoke above the city's downtown core.
It's been a problematic gathering for city officials and police concerned about public health and safety, traffic, and security. Last year, 64 people, including teens, were sent to hospital for conditions related to consuming marijuana.
This year, construction at the art gallery forced organizers to move the pro-marijuana event to Sunset Beach — despite the park board's opposition.
On Tuesday, attempts to stop 4/20 were seemingly extinguished after the park board tweeted a notice to the public to "be prepared" for a sea of pot smokers Wednesday.
Please be prepared for large 4/20 crowds in vicinity of Sunset Beach Park and on seawall tomorrow. pic.twitter.com/EcVIxMejNZ

— Vancouver Park Board (@ParkBoard) April 19, 2016
Follow The Huffington Post B.C. on Facebook, Twitter, and Instagram.
Also on HuffPost