Chris Young/The Canadian Press
An organizer of Black Lives Matter says the group is optimistic that some good will come out of a preliminary roundtable organized by Mayor John Tory on Saturday on "racial equity" even though the group has not been invited.
"I am optimistic," Sandy Hudson, co-founder of Black Lives Matter in Toronto, told Metro Morning on Thursday.
Hudson said the announcement was also confusing because the group has been calling for a public meeting on anti-black racism within policing but the focus of the mayor's roundtable is on many issues, such as social development, youth engagement, poverty reduction and policing.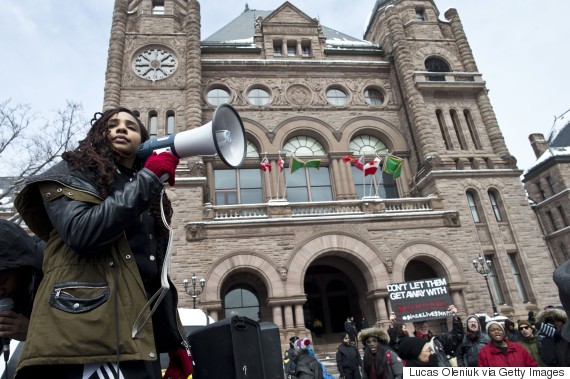 Black Lives Matter protesters demonstrate outside Ontario's Parliament. (Photo: Lucas Oleniuk/Toronto Star via Getty Images)
She said the group is not surprised it was not invited. Tory has said he is meeting with leaders in the black community.
"It wasn't unexpected. I don't expect that much more from him at this point given how the last year has went. Several people who are going to the meeting have contacted us for direction," she said.
"It says to me, we got a problem with our mayor and the people leading this city."
But she said the roundtable is a good thing.
"I do think there will be some good coming out of there."
Tory said in a statement Wednesday that he's organized the preliminary roundtable before he convenes an open public meeting on equity issues. 
"I do think there will be some good coming out of there."
The roundtable "will include a range of voices to help provide some of the necessary perspective and direction for this complex and on-going process," Tory said.
At the open public meeting, the date of which has not been determined, Tory said "individuals and groups including Black Lives Matter will have an opportunity to share their concerns, their frustrations and their ideas."
"Toronto is a proudly diverse city, but we still struggle with issues of racial equity, discrimination and trust. These challenges have been called out by many important voices, including the recent actions of the group Black Lives Matter," Tory said.
"As mayor, I know that leading a diverse city comes with special responsibilities, and I take those issues seriously. I am committed to engaging with this group and all those working toward meaningful change."
Also on HuffPost:
Black Lives Matter Toronto