A woman from France is being called a hero after she put down the baby she was holding to fight off an armed robber.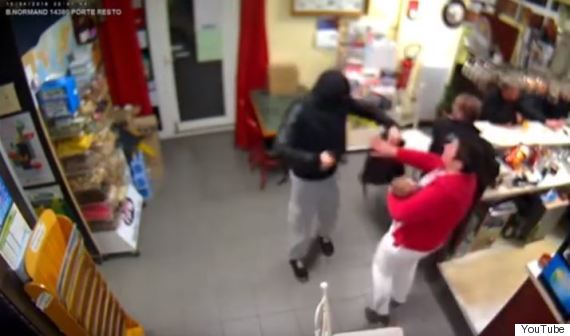 Shocking footage shows Normandy's Nathalie Leclerc-Pelan carrying a baby in her store Bocage Normand when a masked man walks in wielding a handgun.
Leclerc-Pelan calmly passes by the robber to hand the baby back to its parents. She then returns to confront him.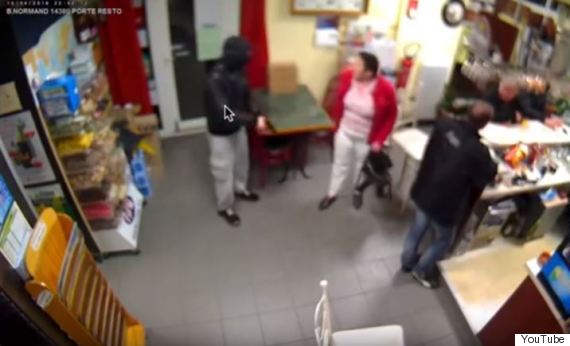 At first, she appears to be reasoning with the robber, but then quickly takes matters into her own hands.
Despite having a gun pointed at her, Leclerc-Pelan bravely pushes the weapon out of her way and proceeds to hit the robber over the head with the bag he had planned on using to steal money. A customer also comes to the owner's aid and attempts to hit the intruder with a bar stool.
Leclerc-Pelan then chases the robber out the door.
Watch the incredible footage above.
The Independent reports that two shots were fired, but the bullets were blank, so no one was injured.
"I thought it was a joke," Leclerc-Pelan told Ouest France following the incident. "He told me to fill the bag and I told him simply that I wouldn't do it."
In another surprising turn of events, the robber actually returned to the bar to apologize for his actions. "I think he recognized the gravity of what he had done and thought he would get away with it if he came back and apologized," the owner said.
Leclerc-Pelan immediately called the police following the altercation and the 21-year-old suspect was arrested.
On social media, the public is now praising the bar owner for her courage.
@SkyNews Give that lady a bravery award. Not to be recommended but what a woman. Hats off

— D D (@DDKindleVille) April 18, 2016
Incredibly brave woman: CCTV shows bar owner put down baby, fight armed robber. https://t.co/L7GIsvhLty

— Mr. Tickle (@MrTickle3) April 21, 2016
Love that she's like, "Hold on a sec, let me out this baby down and then I'll have a chat with you Mr Armed Robber" https://t.co/ZF8TJqeFij

— Bryson (@Escapade1935) April 21, 2016
Toughest woman on the planet https://t.co/BE88ua08dK @NorrisandDavis @1057TheFan

— Steve Davis (@SteveDavisBmore) April 19, 2016
Also on HuffPost
Photo gallery
Everyday Heroes
See Gallery