U.S. Secretary of State John Kerry made a clear statement when he brought his adorable granddaughter to sign the Paris climate agreement on Earth Day. The message? We need to protect our children's futures.
Kerry signed the agreement on behalf of the U.S. last week at the UN headquarters in New York City. According to The Guardian, representatives from more than 170 countries also signed the agreement, which aims to slow the rise of greenhouse gases and global warming.
Kerry's granddaughter, Isabelle Dobbs-Higginson, sat on his lap as he signed the historic document. Naturally, she stole the assembly's attention with her undeniable cuteness.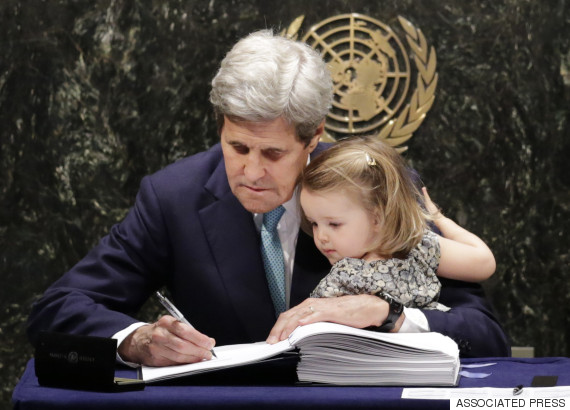 Following the signing, Kerry also planted a kiss on the wee two-year-old before taking his leave from the stage, resulting in another aw-worthy moment.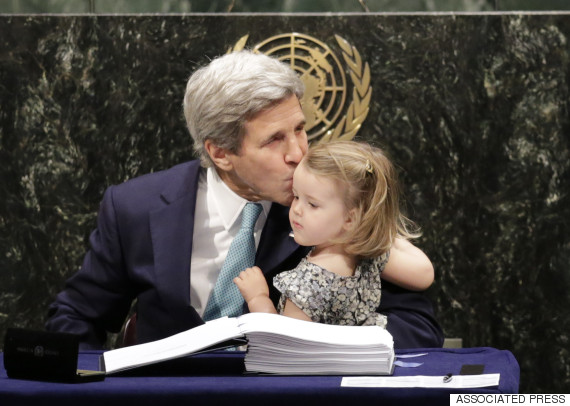 Dobbs-Higginson is the only child of the U.S. Secretary of State's eldest daughter Alexandra Kerry and husband Julian Dobbs-Higginson. According to UN Secretary-General Ban Ki-moon, she was also one of 197 children at the Paris climate summit to represent the nations who signed the agreement.
"We are in a race against time," Ki-moon said during the opening ceremony. "I urge all countries to join the agreement at the national level. Today we are signing a new covenant for the future."
He later added: "Paris will shape the lives of all future generations in a profound way – it is their future that is at stake."
Prime Minister Justin Trudeau also signed the Paris document last week on behalf of Canada. In regards to the agreement, he said: "Climate change will test our intelligence, our passion and our will. But we are equal to that challenge."
Also on HuffPost