After a song on Beyonce's new album, "Lemonade," alluded to husband Jay-Z's infidelity, fans decided to take their freshly-squeezed rage to social media.
In one line, she sings, "He only want me when I'm not on there, He better call Becky with the good hair."
Fashion designer Rachel Roy may have hinted that she is "Becky" by posting a photo to Instagram shortly after the album dropped. The caption read: "Good hair don't care, but we will take good lighting, for selfies, or self truths, always. live in the light #nodramaqueens."
But the target of some hate was Food Network host Rachael Ray, who some mistakenly thought was Roy.
.@rachelray why would you do this to Beyoncé

— Sam Montgomery (@sammontgomery) April 24, 2016
Many deleted their Instagram comments or apologized once they realized their mistake.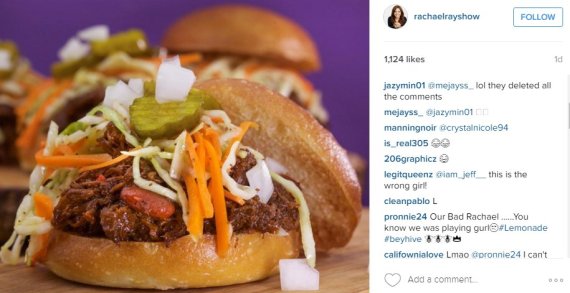 Comments from the Beyhive on Rachael Ray's Instagram were deleted. (Screenshot)
I thought Rachel Roy was Rachel Ray. I've never heard of Rachel Roy. I thought it was a typo.

— deray mckesson (@deray) April 24, 2016
Stop coming for poor Rachel Ray she just wants to make brunch she's not Rachel Roy 😭😭

— elliott (@ghouInextdoor) April 24, 2016
"Nooooo. It's a different Rachel. What do you mean am I sure? Yes, I'm sure." - Rachel Ray on the phone with her mom today.

— Jen Kirkman (@JenKirkman) April 25, 2016
Y'all confusing Rachel Ray w/ Rachel Roy. Just hush. pic.twitter.com/v3NzmOQBBI

— Lorenzo of Skaicru (@Phllp_Wnslw) April 24, 2016
Okay but imagine how incredibly surreal it would be if Jay did have an affair with Rachel Ray.

— Stassa Edwards (@StassaEdwards) April 24, 2016
And whether by coincidence or not, Ray posted a recipe for lemonade on Instagram Sunday.
The real Rachel Roy, who is also the ex-wife of Jay-Z's business partner, was forced to make her Instagram private after a slew of hateful comments.
She took to Twitter Sunday to address the situation.
I respect love, marriages, families and strength. What shouldn't be tolerated by anyone, no matter what, is bullying, of any kind.

— Rachel Roy (@Rachel_Roy) April 24, 2016
Also on HuffPost
Super Bowl 50 Halftime Show: Beyonce, Bruno Mars, Coldplay