Twirl on them haters, Queen Bey!
Beyoncé's Formation world tour officially kicked off Wednesday night in Miami, and you bet the thousands of fans chanting her name wanted to snag a few pieces of her official tour merchandise. And one of their purchasing options? A "BOYCOTT BEYONCÉ" T-shirt.
Beyoncé is selling BOYCOTT BEYONCÉ t-shirts as tour merch 😂 pic.twitter.com/zjD3HcV7XG

— Beyoncé Australia (@BeyonceAUS) April 27, 2016
Now you're probably thinking: why would Bey sell such a thing?
Well, it's basically to mess with the minds of her haters.
More #FormationWorldTour Merch! pic.twitter.com/dq9Lr4lree

— Beyoncé Capital (@BeyonceCapital) April 27, 2016
After an epic Black Panthers-inspired Super Bowl 50 halftime performance, some (haters) accused the 34-year-old megastar for suggesting an attack on police. This led to a #BoycottBeyonce protest at the NFL headquarters, where a whopping two people showed up.
Nice try.
And after that pathetic attempt, people (haters again) still weren't ready to let the issue go, leading Javier Ortiz, Miami Fraternal Order of Police president, to call on the public to boycott Bey's Miami show.
Well, sorry Javier Oritz. Fans didn't boycott the show. And Bey just sent a giant middle finger your way with her "Boycott Beyoncé" shirts.
#FormationWorldTour backstage pic.twitter.com/9D4N54kxHJ

— Beyoncé Australia (@BeyonceAUS) April 27, 2016
Again we say, nice try.
And this is just another instance where Beyoncé has turned lemons into lemonade.
Beyoncé is selling a boycott beyoncé shirt LMFAOOOO QUEEN BETTER MAKE MONEY OFF THOSE HATERS. WHAT KIND OF SLAY?! pic.twitter.com/NTjQ2l3d8q

— Danny (@dannyyonce) April 27, 2016
Bey: one.
Haters: zero.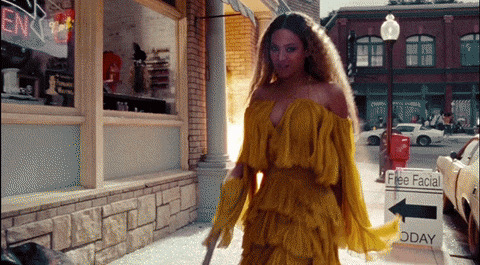 Follow Huffington Post Canada Style on Pinterest, Facebook and Twitter!
Also on HuffPost
Super Bowl 50 Halftime Show: Beyonce, Bruno Mars, Coldplay