OTTAWA — Canada lacks a full picture of the issues related to bail, says a recent note drafted to brief Justice Minister Jody Wilson-Raybould on the state of the criminal justice system.
The document, obtained by The Canadian Press, suggested half of those in provincial jails are on remand and have not been convicted of anything.
The bail question troubles many people.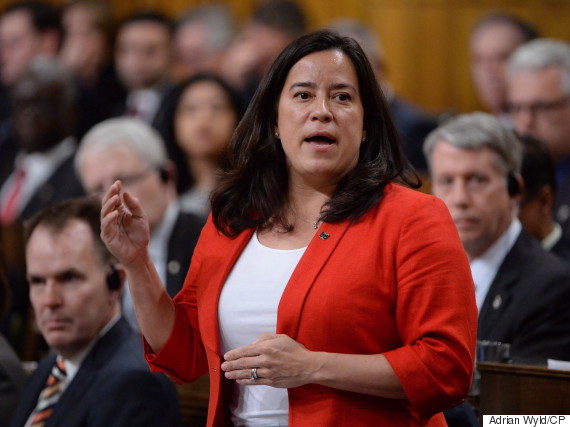 Justice Minister Jody Wilson-Raybould answers a question during Question Period in the House of Commons in Ottawa, Monday, April 18, 2016. (Photo: Adrian Wyld/CP)
Kim Pate, the executive director of the Canadian Association of Elizabeth Fry Societies, said everyone should be aware of the problem, because there are human, social and financial costs to keeping people in custody when they have not been found guilty of a crime.
The most marginalized people end up in that position, Pate said.
"If you have resources and you have the ability to demonstrate that you have the resources to stay in the community, you are less likely to remanded in custody," she said.
"It also puts pressure on those in custody to plead guilty in order to move on with their sentence or move through the process."
"It also puts pressure on those in custody to plead guilty in order to move on with their sentence or move through the process."
The Liberal government, which is considering bail reform, got some advice on the issue recently, in a study by University of Ottawa criminologist Cheryl Webster.
It said a "risk-averse mentality" has permeated the bail process. This leads to vigorous attempts to avoid releasing accused persons who might commit crimes while on bail.
Change would require federal legislation, Correctional Investigator Howard Sapers said Thursday.
A co-ordinated response is needed for the system to have any coherence, he added.
Legislation needed, prison watchdog says
"Jurisdictions have to be seen to work together so a co-ordinated response is absolutely required," Sapers said.
"The federal government is still responsible for the creation of criminal law so much of the bail reform that has been discussed ... would require criminal law amendment."
As of 2013-2014, adults in remand made up 54 per cent of the jail population— with the largest proportions in Nova Scotia, Ontario and Manitoba.
The Statistics Canada data also show indigenous offenders accounted for 24 per cent of all admissions to remand in that year, up from 19 per cent in 2005-2006.
'It is a problem across that country'
Michael Spratt, an Ottawa-based criminal defence lawyer, said the bail issue is clearly a national problem.
"You can't just look and see that Saskatchewan is dropping the ball or Ontario is dropping the ball," Spratt said.
"It is a problem across the country which shows that there needs to be some sort, I think, of federal leadership to try to address the problem and answer the question why we have so many people in custody, especially when a lot of those people are in custody for property offences, minor shoplifting offences, administrative offences."
Tackling the issue, however, is complex, said Anthony Doob, a University of Toronto criminology professor.
In fact, he said, Canada does not know how to deal with it.
Issue 20 years in the making
"If you look at the growth of the remand population in different provinces, it seemed to grow at different times and different speeds ... for no apparent reason," Doob said.
The issue has been creeping up for 20 years in Ontario, he said.
"There's obviously a lot of provincial ... practice which is determining what is happening and that provincial practice varies across the 10 provinces and three territories," he said.
"It is hard one and it may be one where the federal government, if it ... rethought how to address these things, (it) could actually come up with something creative."
Wilson-Raybould's office did not immediately provide a comment Thursday.