Mohammad Alhajali, thousands of kilometres away from his former home, sits in a classroom listening to a language he's just barely beginning to learn,
His teacher asks him what he wants to learn in school.
Alhajali, a Syrian refugee, looks at a screen that translates back her English words in his native Arabic. He gets it. The connection's made.
"Writing," he says, cracking a smile.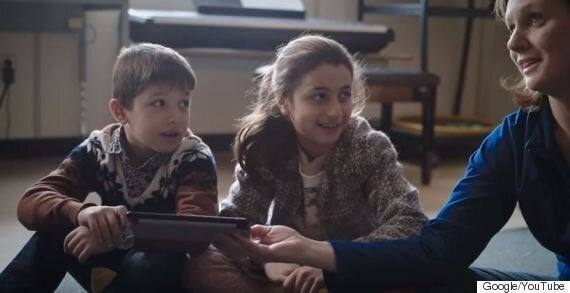 The Alhajali kids with their teacher, Amy Gordon. (Google/YouTube)
It's a beautiful moment captured in a Google video, titled "From Syria To Canada" and uploaded to YouTube Wednesday. It follows father Emad Alhajali and his family, who moved to Orangeville, Ont. from Jordan.
"I came from Syria, from the Daraa province," Emad says in the video, in Arabic. "I left with my wife and kids, because the situation was dangerous."
The clip shows Mohammad and his sister Fatma attending their new school, and communicating with their teacher Amy Gordon using Google's translation services.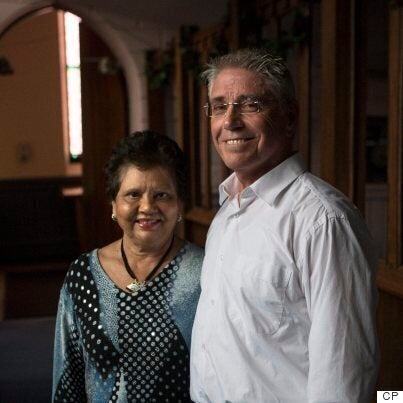 Brian Logel, chair of the Headwaters Refugee Group, is pictured with his wife Philomena at the Westminster United Church, in Orangeville, Ont. on Dec. 1, 2015. (Photo: Chris Young/The Canadian Press)
"After the village that they lived close to was bombed, Emad and [his wife] Razan packed all their things in a taxi, and they fled. When they arrived, they spoke no English," says the family's Canadian sponsor, Brian Logel.
"The children, they've had some very painful experiences. They want to overcome that initial fear, that they won't know how to communicate, because they want to fit in," says Logel's wife, Philomena.
The children's father says though they don't understand everything spoken to them, they're happy, and their teacher says they're making progress.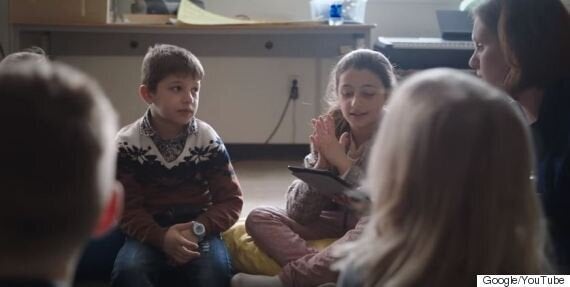 Mohammad and Fatma Alhajali at school. (Google/YouTube)
The Logels' story was featured in a Canadian Press article last December, as the freshly-elected Liberal government was racing to meet its original intake target of 10,000 refugees by the end of the year. The couple opened up their farmhouse — during the holiday season — to the Alhajalis, since they still had no place to stay by the time their permits to come to Canada were issued.
Four months later, the Alhajalis are part of more than 25,000 Syrian refugees who have come to Canada through a mix of government assistance and private sponsors like the Logels.
The federal government has pledged to bring in 25,000 refugees itself by the end of the year.
With files from The Canadian Press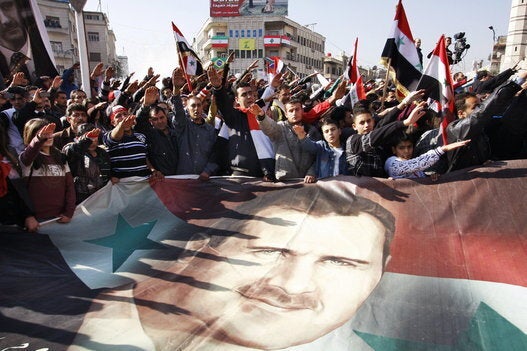 Canada's Response To Syria Refugee Crisis Since 2011