MONTREAL — Bombardier received a major boost Thursday from Delta Air Lines, which has placed a firm order for 75 CS100 aircraft with options for an additional 50 more in what would be the largest order for the Montreal company's troubled CSeries passenger jet program.
Based on the list price, the firm order is valued at approximately US$5.6 billion, Bombardier said. Delivery of the aircraft to Delta, one of the largest airlines in the world, is expected to begin in 2018.
"This is a big win,'' Bombardier CEO Alain Bellemare said during a conference call.
Bombardier (TSX:BBD.B) has been at the centre of political controversy in recent months and it's banking on the success of its CSeries planes to revive its flagging fortunes.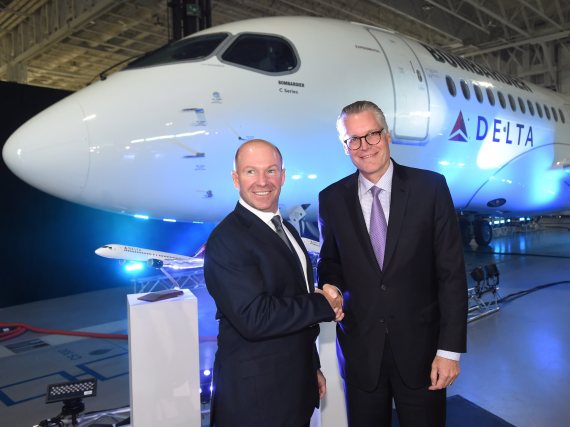 Alain Bellemare, left, president and CEO of Bombardier Inc., and Ed Bastian, right, CEO of Delta Air Lines, shake hands in front of a Delta-branded Bombardier C-Series jet in Mirabel, Que., on Thursday. (Photo: Ryan Remiorz/Canadian Press)
Earlier this year, the company announced it was cutting 7,000 jobs over two years, including roughly 3,000 in Canada, months after the Quebec government pledged US$1 billion of public money for the aircraft manufacturer.
The federal Liberals are considering a request for another $1 billion in funding for one of Canada's biggest global competitors. Bombardier employs more than 70,000 people around the world and exports roughly 95 per cent of its products.
The governments of Quebec and Ontario, both provinces where Bombardier has an extensive presence, have both urged Ottawa to provide financial assistance.
The CSeries is Bombardier's new generation of aircraft for commercial airlines and has been in development for more than a decade as an alternative to smaller models of passenger jets built by rivals Boeing and Airbus, two companies that also receive hefty state support.
Aircraft US$2 billion over budget
The aircraft is about two years behind schedule and at least US$2 billion over budget.
The Delta order came as Bombardier, which keeps its books in U.S. dollars, reported a first-quarter loss attributable to shareholders of US$161 million or seven cents per share. That compared with a profit attributable to shareholders of US$98 million or five cents per share a year ago.
Revenue for the quarter fell to US$3.14 billion compared with nearly US$4.4 billion in the first three months of 2015.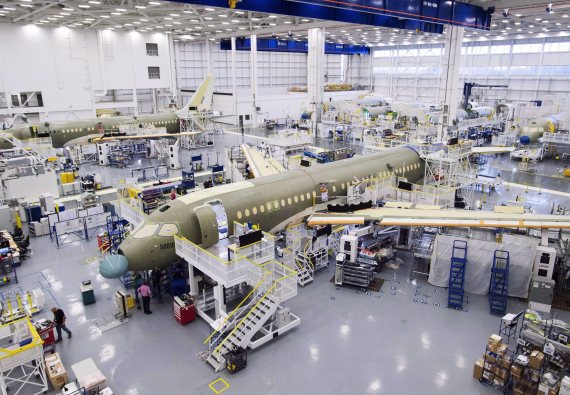 Bombardier's CS100 assembly line is seen at the company's plant Friday, December 18, 2015 in Mirabel, Que. (Photo: Ryan Remiorz/Canadian Press)
"We delivered on our commitments for the first quarter and we remain on track to achieve both our 2016 guidance and 2020 goals,'' Bellemare said.
The Quebec government's first of two payments to Bombardier has been delayed due to unspecified issues including liquidity, according to Premier Philippe Couillard.
In reporting its results Thursday, Bombardier said that with the investment by the Quebec government, it has enough cash to turn itself around, but additional money would increase its flexibility.
"We delivered on our commitments for the first quarter."
"We consider that these resources will enable the development of new products to enhance our competitiveness and support our growth; will allow the payment of dividends, if and when declared by the board of directors; and will enable us to meet all other expected financial requirements in the foreseeable future,'' the company said in its earnings report.
Bombardier has signed other deals in recent months to sell the planes, including a letter of intent in February where Air Canada would buy 45 CSeries jets, with an option to purchase up to 30 more of the aircraft.
Swiss Airlines is scheduled to be the first carrier to put the plane into commercial service in July.
Bombardier is also set to hold its annual general meeting Friday.
Also on HuffPost