When it comes to Internet speeds, Western Canada is getting the shaft.
A new survey from the Canadian Internet Registration Authority (CIRA) found the average download speed in Canada is 18.64 Mbps — but that average varies widely from province to province and city to city.
While Internet users in Toronto and Ottawa came out near the top for download speeds (averaging just above 22 Mbps in both cities), western Canadian centres like Vancouver (16.36 Mbps) and Edmonton (12.32 Mbps) ranked near the bottom.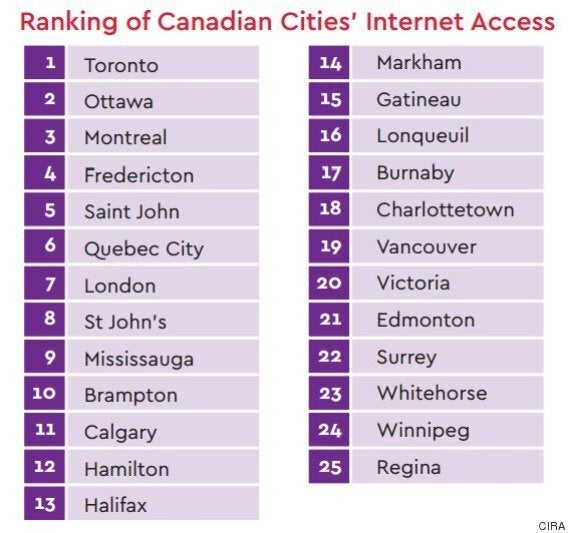 The difference between Toronto and Vancouver download speeds is as large as the difference in speeds between urban and rural areas — a gap of about 25 per cent, the CIRA report noted.
But maybe the most surprising thing about the report is how well Atlantic Canada fared: Small urban areas like Fredericton, N.B. (21.87 Mbps) and St. John's, Nfld. (24.47 Mbps) had better download speeds than any place west of Ontario.
In fact, at 24.56 Mbps, Saint John, N.B., clocked the fastest download speeds of any city in Canada.
But the study noted that there can be large differences in quality of service even within cities.
"A city's core can have significantly different results from its suburbs," CIRA said in a statement.
Broken down by province, New Brunswick has the best Internet access in the country, with average download speeds of around 27 Mbps, and the Yukon Territory has the worst, with download speeds around 6.7 Mbps.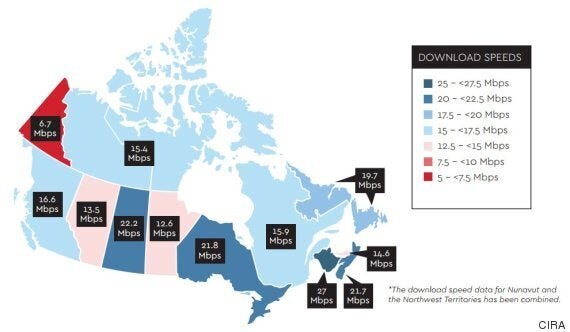 The CIRA study comes as Canada's telecom watchdog, the CRTC, holds hearings on the future of Canadian Internet access.
Among the issues the CRTC may rule on are whether Internet access should be considered a basic right, and whether to set out standards for Internet download and upload speeds.
CIRA launched its own speed test for Internet users last year. It used data from 126,000 of those speed tests, carried out from May to December of 2015, for its survey.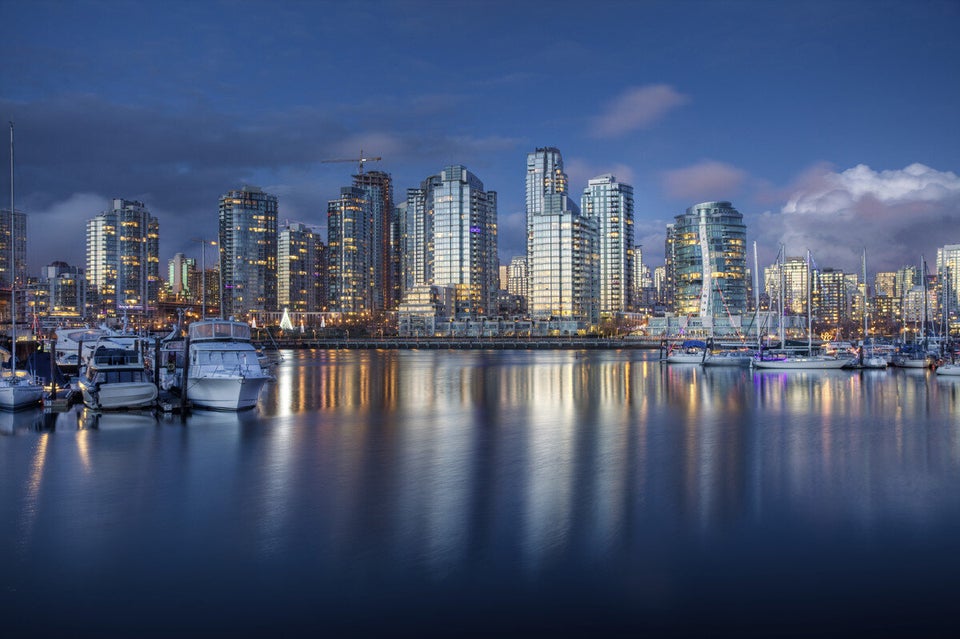 Internet Download Speed By Country (2013)