Doug Ford says that if there is a byelection to replace his brother Rob Ford as councillor for Ward 2, either he or his nephew Mike Ford will run for the vacant Toronto city council seat.
The former councillor, who represented Ward 2 from 2010 to 2014, told CBC News Thursday night that his family believes it still has a role to play in public service.
"We decided shortly after Rob's passing that we need to carry on a voice for the people, and especially the people that don't have a voice," Ford said.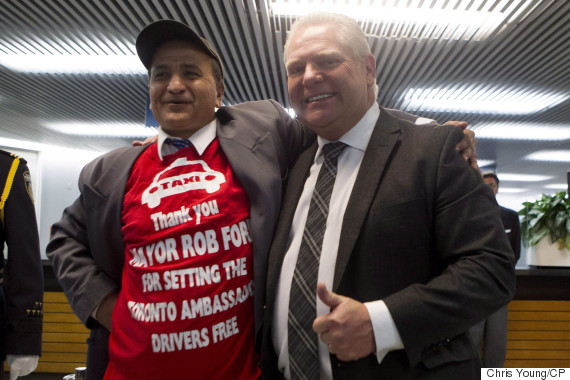 Doug Ford poses for a photo with a mourner as people line up to pay their respects to the casket of former mayor Rob Ford as it lies in repose in Toronto's city hall on Monday, March 28, 2016. (Photo: Chris Young/CP)
"Our family is there to serve the people. I get stopped everywhere I go and get asked to carry on with Rob's legacy, making sure that we always respect the taxpayer," said Ford. His brother Rob died of cancer on March 22, 18 months after dropping out of the mayoral race in 2014 following the diagnosis of a malignant tumour in his abdomen. 
Ford was reacting to comments by Mayor John Tory on Thursday favouring a byelection for Ward 2 rather than an appointment.
Under provincial law, city council must declare the seat vacant at its next meeting, scheduled for Tuesday and Wednesday of next week. 
Councillors then have 60 days to decide whether to appoint someone to the seat or call a byelection.
"I'll be strongly supportive of a byelection and of proceeding with it as quickly as possible," Tory said earlier Thursday. 
However, the decision between a byelection or appointment is not Tory's alone, but council's, and Ford said he's unsure what councillors will do.
It's "totally unpredictable," he said. "I've looked at people square in the eye, they say they're voting one way and 30 seconds later they'll vote the other way."
If council does opt for a byelection, the city estimates the cost would be $150,000 to $200,000. After council passes a bylaw calling a byelection. the city clerk is required to set a nomination date within 60 days. Voting day must be 45 days after nomination day.
'The gravy train's in full swing' 
But it sounds as if a byelection can't come soon enough for Ford.
"The gravy train's in full swing down there. All the hard work that we did for the taxpayers is gone down the drain. They're travelling all around the world on junkets all over the place. They've increased their office expenses. They'll be facing a $400-million budget pressure going into next year. They've jacked up the budget like I've never seen."
Ford also had harsh words for the mayor, saying he's getting a "free ride" from the media and could blow "millions of dollars" without any oversight from council.
"We need to hold him accountable," Ford said. 
However, Ford was vague when asked under what circumstances he would run himself, or hand the candidacy over to Mike Ford, who is in his early 20s and currently a Toronto District School Board trustee for Ward 1.
"Well, I want to first see what the council decides, if there's going to be a byelection or an appointment.… Let's just see what council says."
If council decides to fill the vacancy by appointment, it will establish its own rules on how to do so, since there are no procedures laid out in the City of Toronto Act or the Municipal Elections Act.
Ford said either he or his nephew could pursue the appointment, as well. But he left no doubt that, even though he's still in mourning, he knows what the former mayor would want him to do.
"I know what Rob's saying right now: 'Stop your moaning and groaning. Get out there and save the taxpayers money. Carry on my legacy. When someone calls, return the calls, show up to their door and fight for the taxpayers.'"
Also on HuffPost