Frank Elsner/Twitter
Victoria's police chief has been suspended amid allegations stemming from reports that he sent inappropriate Twitter messages to the wife of one of his officers.
A new investigation into Chief Frank Elsner's conduct was announced by the Office of the Police Complaint Commissioner Friday involving new information that includes allegations of false statements and the deletion of data.
A spokeswoman for the Victoria and Esquimalt Police Board said in an email that the adjudicator of the new investigation has ordered the chief be suspended immediately.
"The board is arranging to convene next week to discuss the implications of the order for suspension," she said.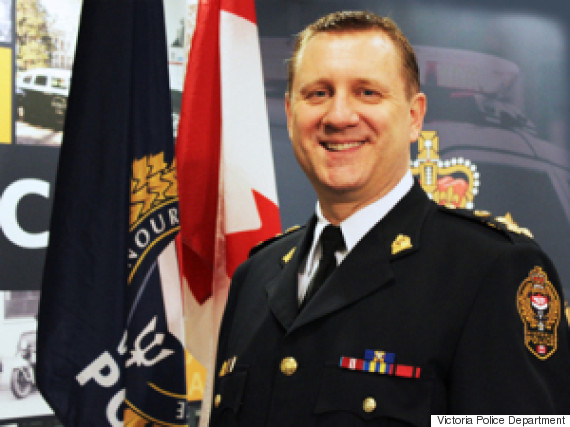 Chief Frank Elsner stepped aside after allegations of an affair with another officer's wife surfaced in December 2015.
Elsner stepped aside from his duties in December 2015, pending the results of two other investigations into his conduct.
Deputy police complaints commissioner Rollie Woods said Elsner now faces three investigations and a total of 11 misconduct allegations.
The latest allegations came to light from a team of senior Mounties and members of the Vancouver Police Department investigating Elsner.
"They provided a synopsis of some concerning information they had received during the course of the investigation," Woods said. "That information alleges conduct by chief Elsner, if proven, would be misconduct."
Two separate investigations in December
Two retired B.C. judges began separate investigations last December, with one focusing on the social media allegations against Elsner and the other involving several alleged workplace harassment complaints filed by Victoria Police Department employees through the police union.
Elsner filed court documents last month in an effort to block the investigations saying the commissioner did not have the authority to order another review after the completion of an internal probe.
The documents say allegations surfaced last year that Elsner may have been in a relationship with the wife of a fellow officer and that the woman was also an officer in a neighbouring district.
Woods said the new investigation involves three allegations that include Elsner asking someone to make a false oral or written statement, requesting a potential witness to destroy electronic data and Elsner accessing the police department's electronic database.
"There's evidence Chief Const. Elsner sought access to the Victoria police archive server and conducted various searches and erased or attempted to erase emails during the course of an ongoing investigation," he said.
None of the allegations against Elsner have been proven.
"It's unprecedented and it's unfortunate for the Victoria Police Department, I think, as a whole."
Elsner, who has been a police officer for 31 years, could not be immediately reached for comment about the new investigation.
In an affidavit filed last March, Elsner said he was shocked at the amount of information that has been made public about the allegations he faces.
"I strongly believe my reputation has been irreparably tarnished and my career in policing is over, regardless of the outcome of the investigations," he said in the affidavit.
Woods said such investigations of a police chief are unprecedented.
"It's unprecedented and it's unfortunate for the Victoria Police Department, I think, as a whole."
The Victoria City Police Union said in a statement Friday that it is aware of the new investigation involving Elsner but would not comment.
With files from Gemma Karstens-Smith in Vancouver
Also On HuffPost: