After a surprisingly strong January, Canada's economy shrank again in February, suggesting the country hasn't yet overcome the shock of the oil-price collapse.
The economy shrank 0.1 per cent, Statistics Canada reported, roughly in line with economists' expectations. Manufacturing, the oil and gas sector and wholesale trade all shrank, while retail and the public sector expanded.
In fact, all of Canada's goods-producing industries taken together are smaller today, by 0.1 per cent, than they were a year ago.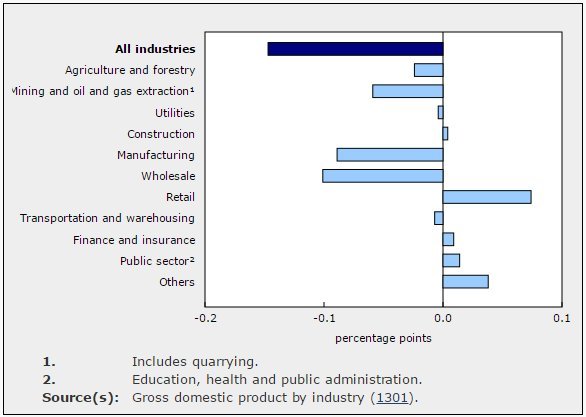 All over the map: Some industries grew strongly while other shrank rapidly in February, as the economy overall contracted by 0.1 per cent. (Chart: Statistics Canada)
The service economy looks much stronger: It's 2.2 per cent larger than it was a year ago, led by arts and entertainment, retail and transportation.
"It's only a tiny dip after a huge gain, but February GDP is the first hint that the big momentum seen in the last three months is likely to fade in upcoming reports," CIBC chief economist Avery Shenfeld wrote in a client note.
Canada's economy has shrunk in four of the past 12 months, including one stretch that led to a technical recession in the first half of last year.
Despite the weak February numbers, Shenfeld still expects Canada's economy to clock a healthy pace of growth in the first quarter, of around 3 per cent annualized.
"But if we end on a soft note [in March], that won't bode well for [the second quarter], where we're looking for well under one per cent growth," Shenfeld warned.
Also on HuffPost
Industries Creating Or Shedding The Most Jobs (March 2016)