A new poll suggests interim Conservative Leader Rona Ambrose would have considerable support if she decided to pursue the job permanently.
But there are two big problems: the party rules forbid it, and she says she doesn't want the gig.
According to numbers from Mainstreet Technologies for Postmedia, released Friday, Ambrose would enter the race with 26 per cent support among decided and leaning Tory voters. Businessman Kevin O'Leary's support is pegged at 20 per cent, while former senior cabinet minister Peter MacKay is at 16 per cent.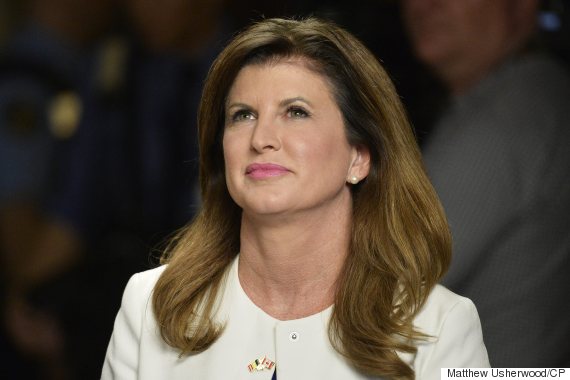 Conservative Interim Leader Rona Ambrose talks with media in Ottawa on March 22, 2016. (Photo: Matthew Usherwood/Canadian Press)
Current MPs and former Harper-era ministers Tony Clement and Maxime Bernier round out the top five with support at seven and six per cent, respectively.
The poll also lists:
Leitch, like Bernier, has already declared she's running.
When Ambrose's name is removed from consideration, Mainstreet found that MacKay has a slight lead over O'Leary — 23 per cent to 22 per cent. The firm stated in its summary that Ambrose's "potential candidacy" seems to diminish support most for Leitch and Raitt.
"Approvals for Rona Ambrose among Conservative supporters are impressive, by far the highest among all the contenders and possible contenders."
Sixty-eight per cent of those surveyed had a favourable view of Ambrose, compared to 53 per cent for MacKay and 48 per cent for O'Leary.
"Approvals for Rona Ambrose among Conservative supporters are impressive, by far the highest among all the contenders and possible contenders," Mainstreet president Quito Maggi said in a release.
But Maggi also pointed out that the leadership race will ultimately be decided by party members who pay a fee, not Tory voters. While the results act as a "barometer of support," experienced candidates with strong teams can be expected to outperform public support in the contest.
The poll surveyed 1,676 Conservative supporters by interactive voice response between April 26-27. It has a margin of error of 2.4 per cent, 19 times out of 20.
Party rules forbid Ambrose from making bid
Mainstreet noted in the poll summary — perhaps rather provocatively — that they included Ambrose's name in their polling because Conservatives are "beginning to discuss the possibility of allowing their interim leader to run in the leadership."
According to the Conservative Party constitution, an interim leader cannot become a candidate "in the leadership selection process."
But in the months since Ambrose took over the temporary job, some have suggested the best possible leader for the Tories is the one they can't have.
On Friday, National Post columnist John Ivison reported that at least three Tory MPs — Scott Reid, Shannon Stubbs, and Pierre Poilievre — support a "Draft Rona Ambrose" movement that will push the party to change its rules so she might run.
Tories' 'fun grandma'
Ambrose told The Huffington Post Canada late last year that the interim leadership was a better fit for her, comparing it to being a grandma that gets to "have fun and then pass it on to the next person."
She also said she looked forward to highlighting leaders in her party and helping them launch leadership bids.
"I'm a bridge-builder," she said. "I enjoy working as a team, I'm very comfortable sharing power."
&nbsp
The situation is reminiscent of the one faced by former interim Liberal leader Bob Rae in 2012, who was reportedly encouraged to run for the full-time job despite party rules prohibiting such a move.
Rae decided not to break his promise and stayed out of the Liberal leadership race.
Also on HuffPost