It's not every day that a multinational corporation, a "one-of-a-kind Internet original," comes up for sale... on Craigslist.
Some wisecracker posted the ad on Thursday, listing Yahoo for US$8 billion or best offer under the "antiques" section.
"A beautiful piece in good-to-fair condition, showing some signs of wear but easily restored in the hands of the right person," the ad reads. Included are a billion users, an endless archive of Kim Kardashian pictures, "a really nice gym," and Katie Couric, it says.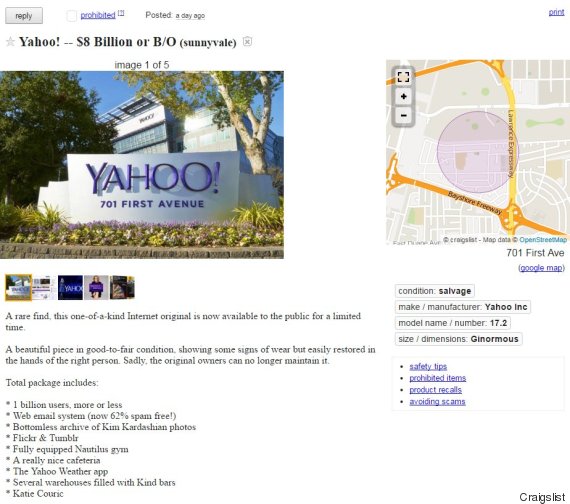 Screengrab of the Yahoo Craigslist ad.
Sale of the company is inevitable, the company's former president Susan Decker told CNBC on Friday, though she presumably doesn't mean on Craigslist.
"When you think of Yahoo, they had a shot to do what Vox is doing, in terms of taking content and distribution, and really focusing on news, sports, finance," she said, adding "unfortunately" the company became "mediocre" as the company grew bigger.
Bids for the company may reach as high as US$8 billion, according to the Wall Street Journal. That may sound high for a Craigslist bid — but considering the company turned down a US$44.6-billion offer from Microsoft eight years ago, it's low.
Also on HuffPost
The Craziest Craigslist Ads