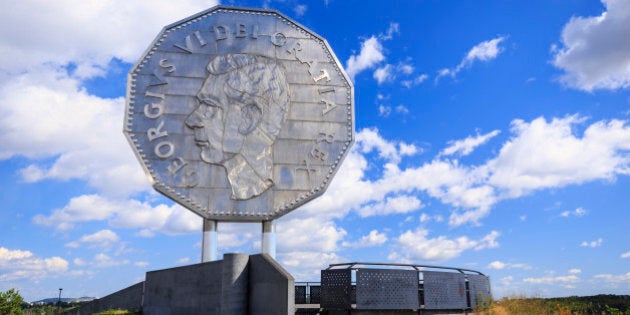 Canada should eliminate the nickel within five years and switch to 10-, 20-, and 50-cent coins, says a new study from Quebec-based credit union Desjardins.
The study also says it's "not likely" Canada will go cashless within the next 10 or 20 years — and in fact Canadians are holding more cash than they used to.
"Due to the gradual increase in the cost of living and decreased buying power of small coins, the time will come when the nickel will have to be taken out of circulation," Desjardins economist Hendrix Vachon wrote.
He sees that time materializing "within about five years." But once the smallest coin denomination is 10 cents, quarters will make little sense. Vachon suggests keeping the dime and introducing 20-cent and 50-cent pieces, not unlike the denominations seen in many countries outside North America.
But the study sees less need to switch the five-dollar bill to a coin, because of the new, longer-lasting polymer bills. But "eventually, the evolution of buying power could still justify changing to a $5 coin," Vachon added.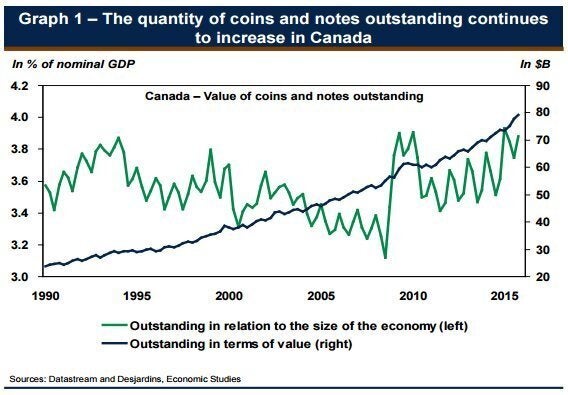 Canada going cashless? Nope, we're holding more of it
Despite some other countries' push towards a cashless economy — Sweden being a prime example — Canada is unlikely to follow suit, at least in the next few decades, the study says.
In fact, Canadians are holding more cash than they used to. Cash in circulation today amounts to 3.8 per cent of Canada's annual economic output, up from an average of 3.3 per cent between 2005 and 2008, the study found. By contrast, in Sweden — where there is a concerted effort by government to go cashless — cash holdings have dropped to just 1.5 per cent of economic output, from four per cent at the start of the century.
But the way Canadians are using cash is changing rapidly. Cash is being used in fewer and fewer transactions, especially for small purchases, the study found.
At the same time, $100 bills and $50 bills are becoming more popular, while smaller denominations are becoming less so.
"These bills are likely little used to purchase goods and services and are more likely used for hoarding purposes," Vachon wrote.
"We might also assume that they are used more for illicit activities, or in the underground economy. This is one of the reasons the $1,000 bill has not been issued in Canada since May 2000."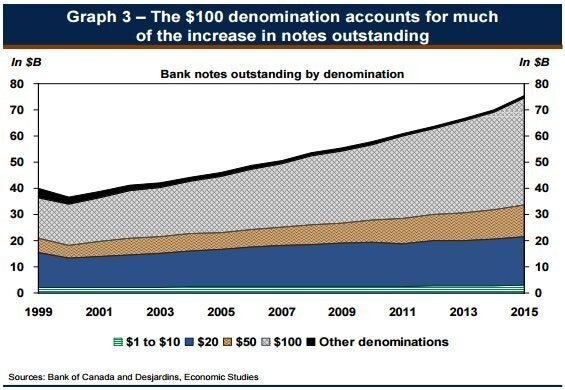 You can't keep bitcoins under your mattress
The study sees benefits to going cashless, such as making it easier to combat illegal transactions and the underground economy, but it sees limits to that reasoning.
"The argument that getting rid of cash could hinder illegal activity ... quickly runs aground on the possibility that other tactics and methods of payment offering secrecy and discretion will take root," Vachon wrote.
"We should never underestimate people's ability to adjust and innovate, especially if it's clearly to their benefit to do so."
And Vachon notes another reason for keeping cash around: If the power goes out, electronic currency disappears.
"These situations make cash a highly-valued backup, which is probably one reason most people keep a few bills and coins in their pockets or at home."