One day, Canadians will gather around campfire holograms and tell the grand story of Justin Beaver — Canada's comeback kid.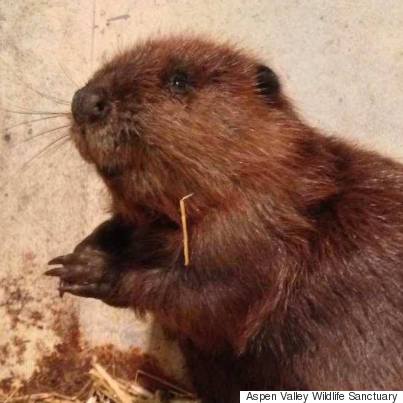 Justin Beaver was found thin and dehydrated in December. (Aspen Valley Wildlife Sanctuary/Facebook)

The rodent's tale began in December, when it was found severely dehydrated and underweight in an Ottawa backyard, according to CBC News.
Justin was "not behaving normally the way a beaver should behave," Heather Badenoch, a volunteer with the Rideau Valley Wildlife Sanctuary said at the time. The centre asked for a Good Samaritan to drive the beaver to the Aspen Valley Wildlife Sanctuary, a treatment centre four hours away in Rosseau, Ont. The centre had the facilities the beaver needed for a full recovery.
Less than an hour after their public plea, the #BeaverTaxi hashtag gained traction and a driver, Mary Herbert, found.
Update: Driver found for sick beaver. Thank you!! #BeaverTaxi @CFRAKristy @CFRAOttawa @eissacaylward pic.twitter.com/Zw1PoTmVAq

— Rideau Wildlife (@rideauwildlife) December 8, 2015
Justin made it to the centre and made his recovery over almost five months there. He was given his cheeky new name at the sanctuary, according to the Ottawa Citizen.
And on Saturday, he made his triumphant return to nature.
Justin got a lift from Rosseau to Ottawa with Stuart Musson. The drive was a slow and quiet one, Musson told the Citizen.
"I was 80 km/h and letting everyone pass me," he said.
Justin Beaver needed a drive last year for medical care. He's coming back to the wild TODAY at 4! #ottnews pic.twitter.com/l7indMkagl

— Rideau Wildlife (@rideauwildlife) April 30, 2016
The beaver eventually made it to the shore of the Rideau River, where he would begin his new life.
"He's healthy, he's happy, he's old enough to be on his own," Badenoch said.
He was thin and dehydrated when found in Osgoode backyard in December. He is healthy now #ottnews pic.twitter.com/e40Dr3emrx

— Chloé Fedio (@cfedio) April 30, 2016
We'll update this post when this story inevitably becomes a Heritage Minute.
Also on HuffPost