Now this is how you respond to a challenge.
Last week, President Barack Obama and Michelle Obama challenged Prince Harry to bring his A-game to the 2016 Invictus Games.
Trudeau not only had a message for both the U.S. and the U.K. but he also showed us (and the rest of the world) exactly how Canada brings it — with push-ups, of course.
"Oh hey, I just thought I'd show our friends in the U.S. and the U.K. how Canada brings it," he says in the video above. "Your Majesty, Prince Harry, President and Mrs. Obama, BOOM."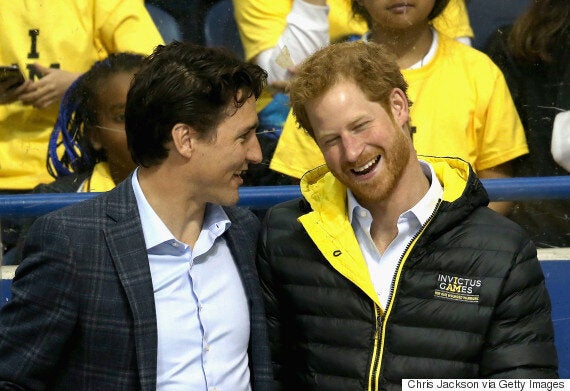 (Prince Harry chats with Canadian Prime Minister Justin Trudeau as they watch a sledge-hockey match Mattany at the Athletic Centre on May 2, 2016 in Toronto, Canada. Photo: Getty)
Meeting with Trudeau, the two attended a sledge hockey game at Ryerson University's Mattamy Athletic Centre and took photos with kids in the crowd.
We're just hoping the prince responds with his own round of push-ups.