As U.S. President Barack Obama wraps up his term in the White House, all eyes are on the famous family and what they'll get up to next. Specifically, Obama's teen daughters, Malia and Sasha, recently gained the media's attention after they attended their first state dinner in March looking all grown up!
#SashaObama x #MaliaObama at the State Dinner pic.twitter.com/ucSSMsZIby

— Tha Celebritea (@thacelebritea) March 11, 2016
At that time, we learned that Obama's eldest daughter, 17-year-old Malia, will be graduating from high school this year and attending college in the fall. However, a recent statement from the White House has revealed otherwise.
"Malia will take a gap year before beginning school," the statement said.
Following her year off, Malia will attend Harvard University in fall 2017, which is the same school both her parents, Barack and Michelle, attended.
According to Buzzfeed, speculation over Malia's university choice began on Saturday when a photo of the teen wearing a "Harvard 2020" t-shirt was posted on The Tab, a college news site.
Malia Obama wears Harvard shirt during high school's college signing day https://t.co/fx0OP5HJKe pic.twitter.com/QRuQIVE80S

— jimmy alto (@jimmyalto) May 1, 2016
The Tab reported that the photo was taken at Malia's high school, Sidwell Friends, on their "college signing day," where graduating students wear t-shirts from the university they have chosen.
Currently, Malia is finishing her studies at the prestigious private school in Washington, D.C. Her younger sister, 14-year-old Sasha, also attends classes there.
While it's unknown what Malia will be doing during her gap year, New York Times' writers Julie Hirschfeld Davis and Nicholas Fandos argued that the break will be a good way for the Obamas to avoid a media frenzy.
Using the example of Chelsea Clinton's arrival at Standford University in 1997, they wrote: "Bill and Hillary Clinton arrived on campus to drop her off with more than 200 reporters in tow. Dozens of Secret Service agents swarmed the scene, investigating parked vehicles and trying unsuccessfully to blend in."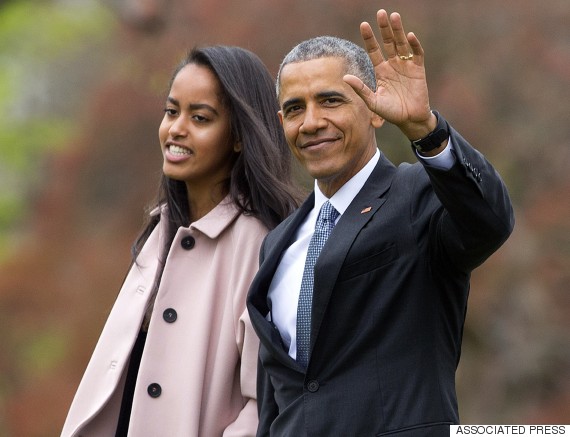 Previously, Obama revealed that he and his family will be staying in Washington following his presidency so that his youngest daughter can finish high school.
"Our decision has actually presented a bit of a dilemma because traditionally presidents don't stick around after they're done," Obama said at the White House Correspondents' Dinner on Saturday, regarding his decision. "And it's something that I've been brooding about a little bit."
Gap years are becoming increasingly popular in the U.S., ABC News reports. Ethan Knight, executive director of the Portland-based American Gap Association, told the news site that there are benefits to these breaks.
"Students go to college more satisfied and engaged and universities often see these students become leaders on campus," he said.
Considering this and who Malia's parents are, we have no doubt she'll become a great leader someday.
Also on HuffPost
Sasha, Malia, Michelle & Barack Obama