Tom Szczerbowski via Getty Images
While Toronto Raptors fans are still living through Sunday's Game 7 victory against the Indiana Pacers, we're also just as excited about the evening's national anthem.
As the only Canadian team in the NBA, the Canadian anthem is only sung in Toronto at the Air Canada Centre or when the Raptors are on the road.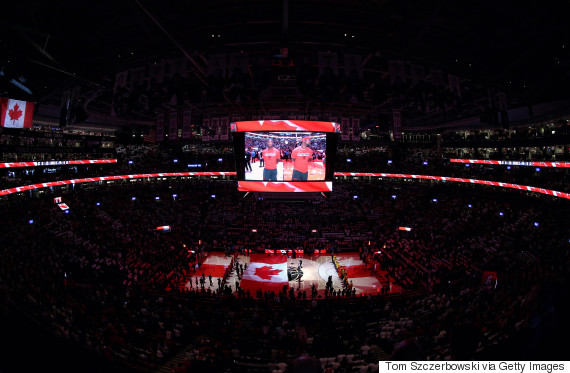 But the anthem during Game 7, which resulted in the team's second playoff series win in 15 years, was something special.
As singer Michael Ciufo began singing "O Canada," he did what any singer would do in a room full of proud Canadians — he let the audience do the singing for him.
With a giant Canadian flag in centre court, the packed stadium gave it their all.
The Raptors, who beat the Pacers 89-84 on Sunday, will now face Dwayne Wade and Miami Heat in the Eastern Conference semifinals starting Tuesday.
ALSO ON HUFFPOST:
Toronto Raptors 2015-2016
Correction: This post originally had an audio video from May 2014.