It's 2016 and sadly, racist trolls still roam the internet.
On Friday, Old Navy tweeted an ad featuring an interracial family to promote their "Thank You Event." Unfortunately, the photo did not sit well with some internet trolls who immediately attacked the company with shockingly racist comments.
Model Grace Mahary, who is featured in the Old Navy ad, also hit back at the trolls by posting the photo on her Instagram account.
"In light of the controversy revolving around my pretend family... I am proud to be representing interracial love, multiculturalism, and most importantly, a mentality that supports opportunity for all ethnicities. Thanks @oldnavy #lovewins #hatefreezone," Mahary wrote.
Unfortunately, the racist backlash sparked by the Old Navy ad is similar to an incident in 2013 involving a Cheerios commercial. The TV ad featured a white mother, black father and their biracial daughter.
Despite the racist criticism it received, Meagan Hatcher-Mays, a biracial woman, told Today.com that the commercial was a sign of progress. "I think this commercial is a really big step for interracial families," she said. "The commercial represents that we exist."
Clearly Old Navy was on to something when they released their most recent ad. However, according to Chloe Gottlieb, senior vice president and executive creative director at ad agency R/GA, this is still a "transition time" for companies and backlash is going to happen regardless.
"Brands are being brave, but there are still some people who aren't as comfortable, and they are reflecting it back," Gottlieb told CNBC.
Nonetheless, the Old Navy incident has shown us that #lovewins. And there's nothing more beautiful than that.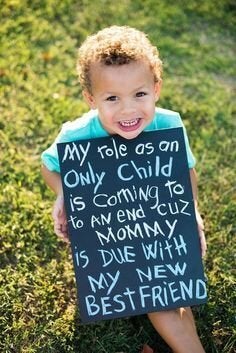 Best Blended Family Baby Announcements