Once again, Urban Outfitters has managed to land themselves in Internet hell, this time, because of a shampoo. Yes, that's right... a shampoo. A shampoo so offensive that it is causing major backlash on social media.
Anatomicals Peachy Head Shampoo has been pulled from shelves at UO stores in the U.K. due to the product's tagline, which is "Peach Shampoo for Suicidal Hair."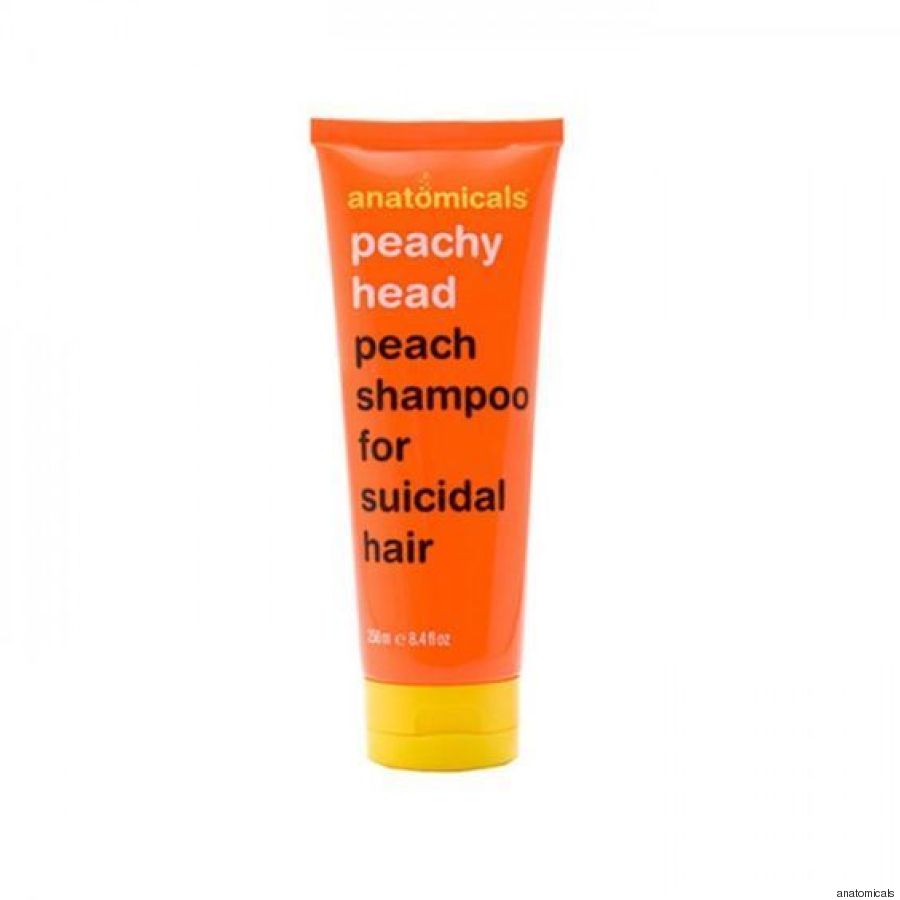 Say what?
"I never knew my once beautiful hair would actually commit suicide by tossing itself off dramatic white cliffs to the rocks below," reads the product's description of the British beauty company's shampoo. "Before it's too late, bring your locks back from a state of complete depression with this conditioning peach shampoo. It's hair heaven here."
And to make matters worse, the Peachy Head name is a play on Beachy Head, one of the most prominent suicide spots in Britain.
Horrible.
And — you guessed it — the Twitterverse heavily criticized the retailer for being "hugely irresponsible" and insensitive about suicide.
Dear @UrbanOutfitters think this is an acceptable product aimed at teenage girls? Shameful AND hugely irresponsible. pic.twitter.com/3gdwadGj5Q

— Sam Missingham (@samatlounge) April 28, 2016
Seriously, @UrbanOutfitters? What makes you think puns about suicide are okay? Especially among teenagers. Absolutely shameful.

— Megan Littler (@meganlittler19) April 28, 2016
Seriously, punning on Beachy Head with Peachy Head and then calling hair suicidal must have taken some serious level of marketing wankerdom.

— Matt Haig (@matthaig1) April 28, 2016
Christ, this is horrendous. @UrbanOutfitters you should be ashamed - turning suicide into a pun to sell. Disgusting. https://t.co/yOaSVY60Lf

— Tiffany Louise Clark (@tifflouclark) April 28, 2016
In a statement to Mashable, an Urban Outfitters rep stated, "Although the product's name is a humorous attempt to market a shampoo for hard-to-manage hair, we reevaluated and felt it was not appropriate and it was pulled from the Urban Outfitters website. We have instructed all of our U.K. stores to remove the product immediately."
Speaking to HuffPost U.K. Style, Anatomicals co-founder Paul Marshall said the brand weren't "making light" of suicide.
"'Peachy Head' has been on sale for a number of years now and continues to be loved by many customers," the spokesperson said. "That's not to say we fail to recognise that suicide, and particularly teenage suicide, is a growing problem and we would never wish to be seen as making light of it."
Hmm...
Sadly, this isn't the first (and probably not the last) time Urban Outfitters has been tangled in controversy. Who could forget their "Navajo" clothing and their "vintage" Kent State University sweatshirt featuring red splatters that resembled blood stains? Again, we say 'Yikes.'
Urban Outfitters are selling a "vintage" Kent State jumper, blood splatters and all. Nothing says "hip" like murder. pic.twitter.com/tq63ONAniq

— cory zanoni (@cjzanoni) September 15, 2014
Oh Urban Outfitters, when will you learn?
Follow Huffington Post Canada Style on Pinterest, Facebook and Twitter!
Also on HuffPost
Outrageous Urban Outfitters Scandals