UPDATE: The Maricopa County Attorney's Office said Wednesday that all of the charges against Hunter Osborn have been dropped.
An Arizona high school senior is facing 69 indecent exposure charges after pulling a crude prank in his school's yearbook.
Hunter Osborn, 19, told police he was "disgusted" with himself after he exposed the top of his penis through his pants in a football team photo, according to CBS 5.
The Red Mountain High School student, who said a teammate dared him to do it, faces 69 charges of indecent exposure, for the number of students in the photo, and one count of furnishing harmful items to minors.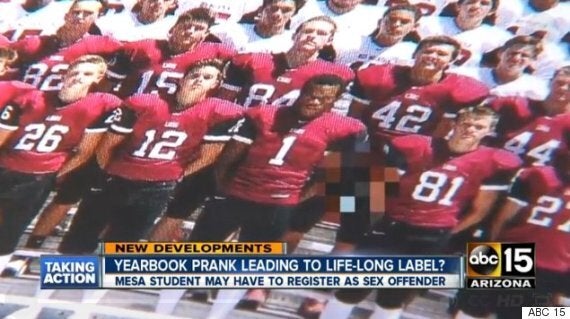 Students interviewed by the outlet seemed shocked at the charges, saying they wouldn't have noticed Osborn's act unless someone pointed it out.
"It's something that's going to be on his record for the rest of his life," Brooke Bodrero said. "The consequences are a little harsh."
"Luckily, most of the yearbooks were still in their boxes," spokeswoman Helen Hollands said. The school wants to get the 250 back, so the image can be edited.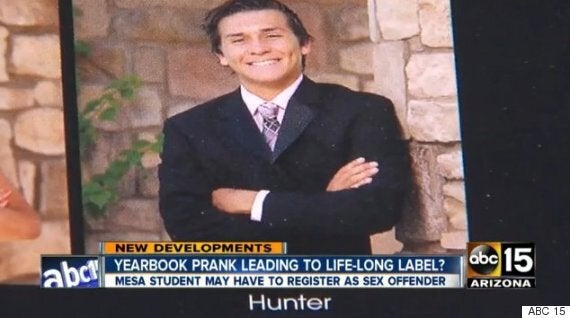 The offending picture had also been featured in football game programs that had been floating around the school for months, according to Fox 10 Phoenix.
In a statement, Mesa Public Schools said it was "dismayed by the actions of the students involved in the photograph."
The district also said it was investigating how to stop something like this from happening again.
Osborn has to wear an electronic monitoring device, and he has a preliminary hearing scheduled for May 20.
"Hunter needs to be held accountable for his actions but that doesn't mean ruining his life!"
But a lot of people have his back. A Change.org petition calling for the charges to be dropped has more than 1,000 signatures.
The person behind the petition, Alex Labban, says Osborn was jailed the night of his senior prom.
"The teacher responsible for the yearbook should be fired," he wrote. "Hunter needs to be held accountable for his actions but that doesn't mean ruining his life!"
One signatory, who said that his son was in the photo, called the charges "insane."
"I guess my son was one of the 69 'victims' of this horrific crime," wrote Eric Huffman. "I will be calling the Mesa PD tomorrow and have him removed as a victim because he saw nothing."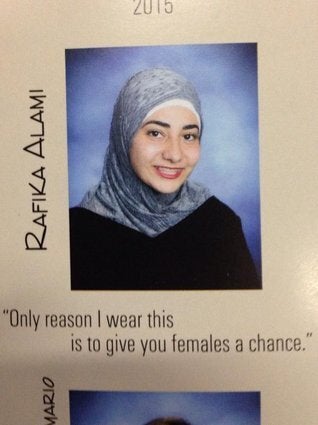 Hilarious Yearbook Quotes You Wish You Thought Of First