A meteorologist is on the defensive after viewers accused her of making light of the wildfire raging in Fort McMurray, Alta. during her Tuesday weather report.
In a Facebook post Wednesday, CTV News Atlantic's Cindy Day writes that she is "horrified to think that some of you are accusing me of [sic] intentinally making light of the wildfire situation out west."
"Look at these temperatures, you might want to sit down," Day said in the report over an image showing temperatures in Western Canada.
"If you have friends and relatives in Fort McMurray, don't call them, they're just going to brag about the heat," she said.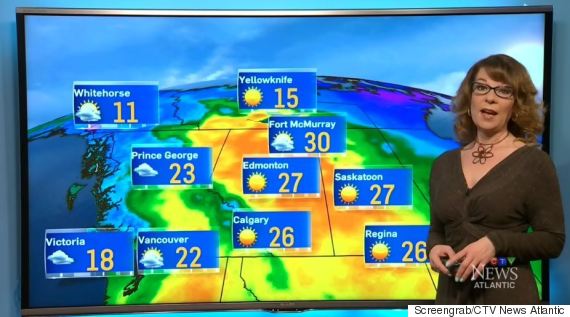 A screengrab from a video of Cindy Day's weather report on May 3, 2016. (CTV News Atlantic)
The Alberta wildfire started before the broadcast, but became a major threat to Fort McMurray by Tuesday afternoon.
Some viewers took to Twitter to criticize Day for her comment, many asking how she had not lost her job.
Seriously, how is Cindy Day not fired yet?

— brittany (@brittanyfordd) May 4, 2016
HOW DOES CINDY DAY STILL HAVE A JOB

— Alien Girl (@thaliamoors) May 4, 2016
Day said in her Facebook post she was not joking about the wildfire.
"I was out of the office all day..on a shoot. I was aware of the situation, but the last time I was able to get an update was the morning, when the fire was expected to remain on the other side of the river... not threatening the city," she wrote.
"My thoughts and prayers are with everyone there and their families and friends here in our region. "
'Significant destruction' of homes: Notley
The horrific blaze in Fort McMurray has prompted the largest fire evacuation in the province's history. More than 80,000 people have been evacuated from the city.
There have been no reported deaths or injuries, but the fire remains out of control. Alberta Premier Rachel Notley said there's been a "fairly significant destruction of residences."
With files from The Canadian Press
Also On HuffPost:
Fort McMurray Wildfire (May 2016)