We're not so sure "Captain America" can handle the cold.
Actor Chris Evans, who was visiting "The Tonight Show Starring Jimmy Fallon" on Tuesday to promote his new movie, played a hilarious round of blackjack with host Jimmy Fallon. The twist? The loser would have to take a funnel of cold water down their pants — Captain America was frozen for 70 years, after all.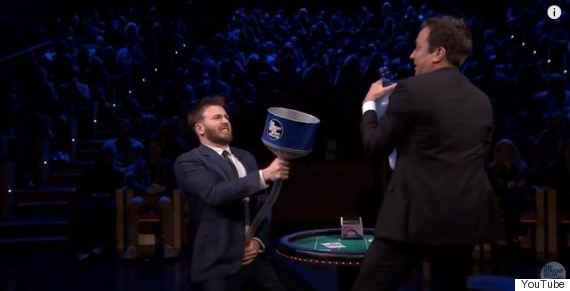 The game, which was created by Evans himself, lasts a coupe of rounds before both players start pouring a pitcher of water down each other's fancy suits. The 34-year-old actor, who will be starring in his third "Captain America" franchise movie, also had the funniest expressions.
.
If you want to skip all the blackjack and go straight to Evans' wet pants, start the video at 3:37 (that face Evans makes is priceless)!
Also on HuffPost
'Captain America' Still Photos: Chris Evans