We all sing our favourite songs in our heads, but imagine singing them out loud in front of complete strangers.
In the hilarious clip above, YouTuber and prankster Richy Sandham of The Royal Stampede strolls (and sometimes dances) his way through Adelaide with a Rangers jersey, headphones and sunglasses. But the best part? He's singing Drake's "One Dance" embarrassingly out loud.
"We have done a few of these before," YouTuber Sandham tells The Huffington Post Canada.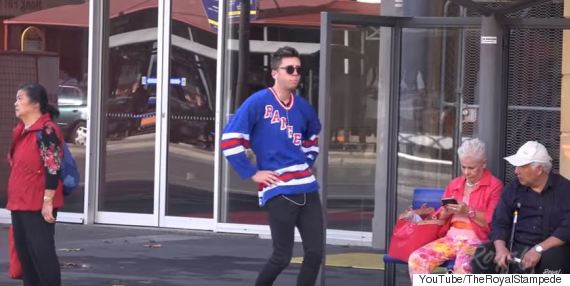 Sandham, 25, from South Australia, also uploaded a very similar video back in 2015, only this time, it was a tribute to the Canadian rapper's other popular song (and video), "Hotline Bling."
"We just loved the new Drake song and thought it was time for Drake round two," he says.
In the video, Sandham hits all the high notes while jamming beside seniors, students and pedestrians waiting for a bus.
"Everyone was loving it [and we] love making a lot of people smile," he says.
Sandham, who says it took five hours to shoot and four hours to edit the video, also gives out flowers to strangers throughout the shoot.
Watch the full video clip above.
Also on HuffPost