An Alberta city is under the province's largest fire evacuation order as a massive wildfire enveloped the region.
Approximately 88,000 residents of Fort McMurray and area were told to leave their homes Tuesday.
According to the Regional Municipality of Wood Buffalo, 80 per cent of the houses in the neighbourhood of Beacon Hill were destroyed by the powerful blaze.
Firefighters say they are preparing for a "worse" day Wednesday, anticipating strong winds and dry conditions to feed the already out of control 10,000-hectare-large inferno.
SUBSCRIBE AND FOLLOW ALBERTA
Get top stories and blog posts emailed to me each day. Newsletters may offer personalized content or advertisements. Learn more
All 105 patients were evacuated from the local Northern Lights hospital within two hours, officials said at a news conference.
A fuel tanker has been sent to aid stranded motorists who stayed the night on Highway 63 without gas. The highway is the main traffic artery between Fort McMurray and Edmonton.
Photos taken from locals and photographers in Fort McMurray show dark ominous clouds of ash and tall towers of billowing smoke against an orange-lit sky.
Alberta Premier Rachel Notley says nearly 1,600 structures have been destroyed by the wildfire so far.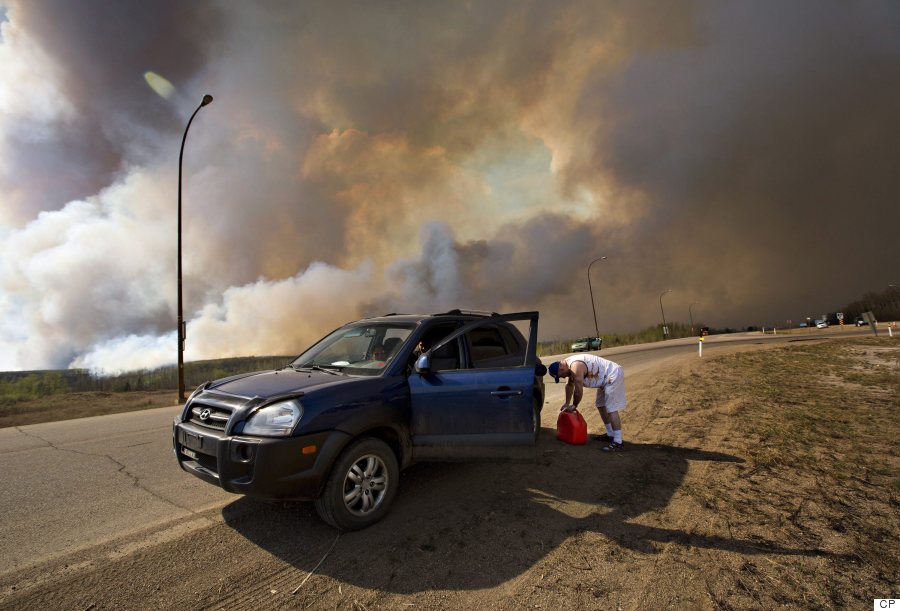 An evacuee puts gas in his car on his way out of Fort McMurray as a wildfire burns in the background on May 4, 2016. (Photo: Jason Franson /The Canadian Press via AP)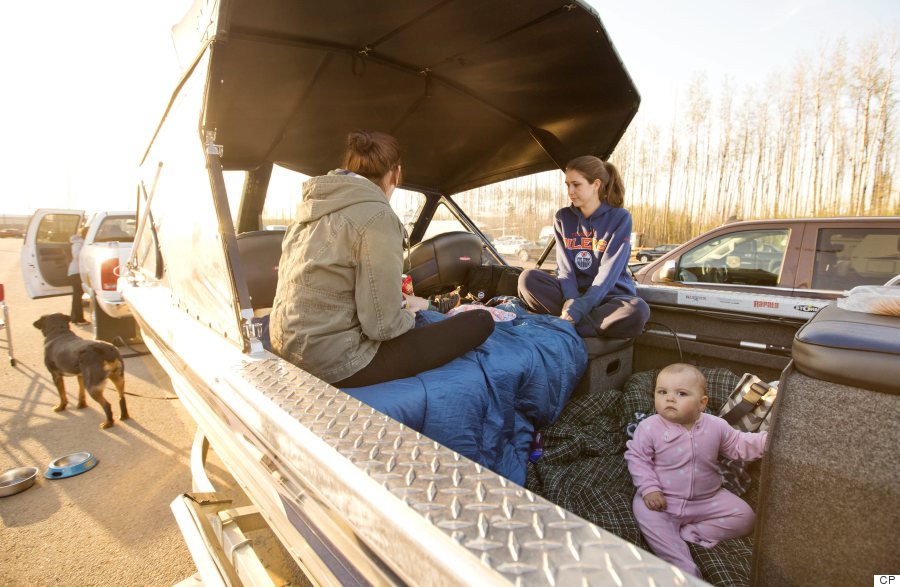 A family takes refuge in the back of their boat after evacuation at a rest stop near Fort McMurray on May 4, 2016. (Photo: Jason Franson/The Canadian Press)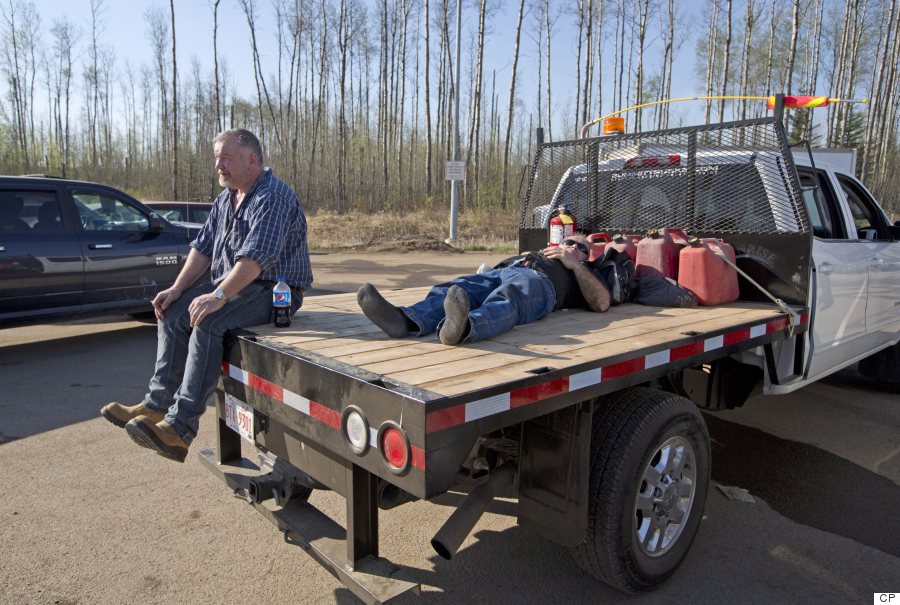 Evacuees from Fort McMurray wait to hear when they will be let back in, at a rest stop near the city on May 4, 2016. (Photo: Jason Franson/The Canadian Press)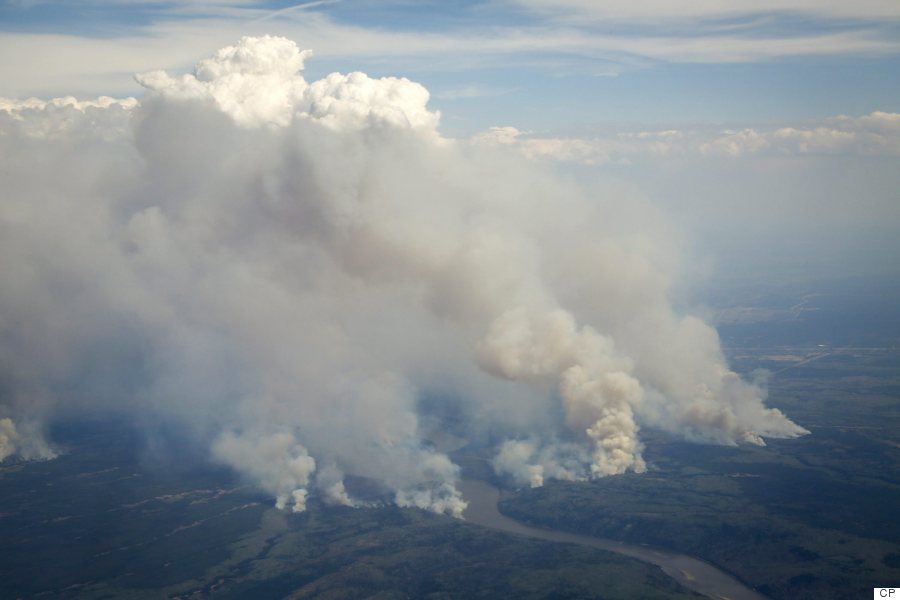 Wildfires burn in and around Fort McMurray on May 4, 2016. (Photo: Jeff McIntosh/The Canadian Press via AP)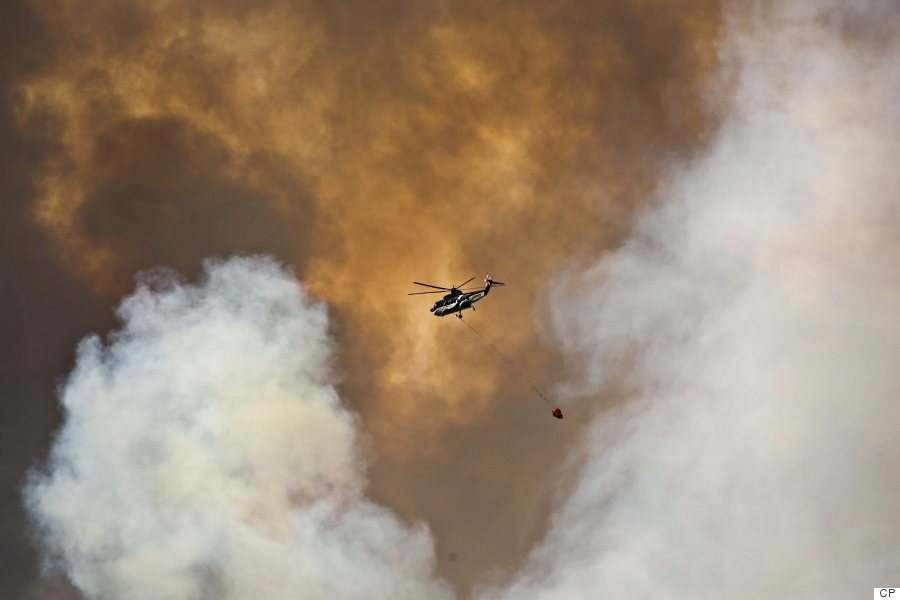 A helicopter battles a wildfire on May 4, 2016. (Photo: Jason Franson/The Canadian Press)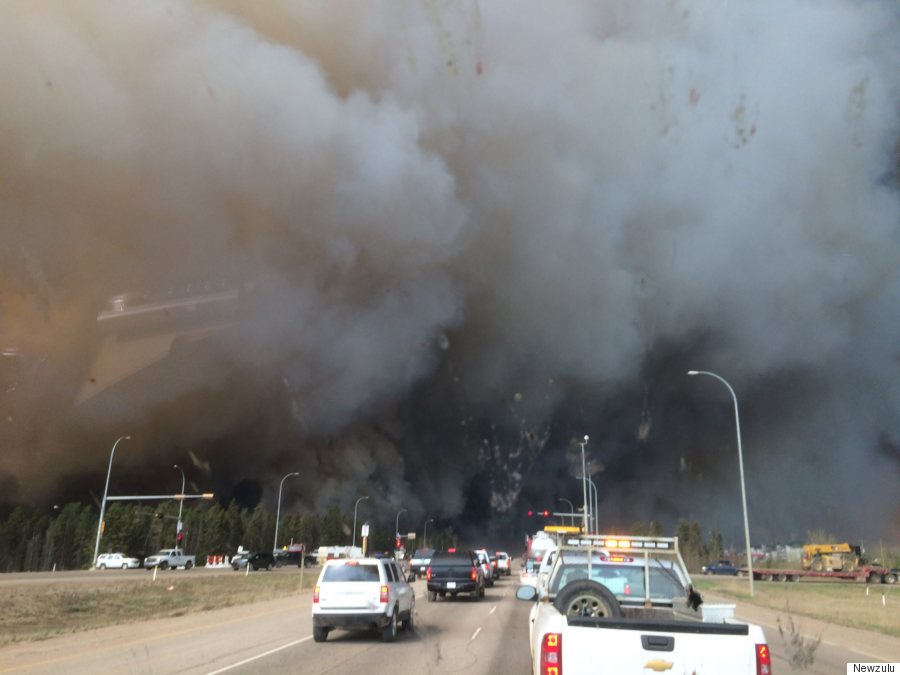 Heavy smoke rises above Alberta Highway 63, near Fort McMurray on May 3, 2016. (Photo: Newzulu)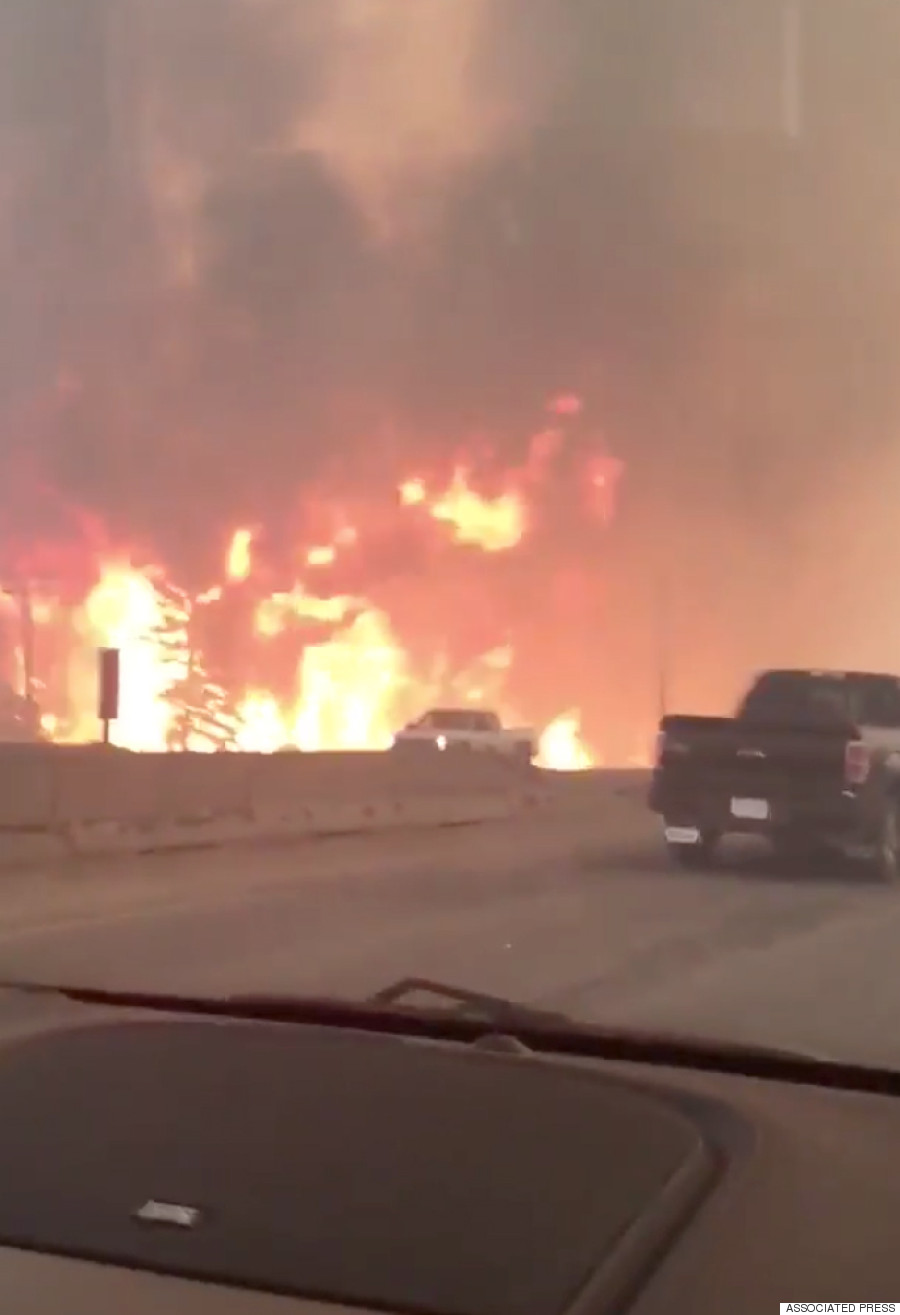 This photo provided by Tyler Burgett shows flames from a wildfire along Highway 63 in Fort McMurray on May 3, 2016. (Photo: Tyler Burgett via Associated Press)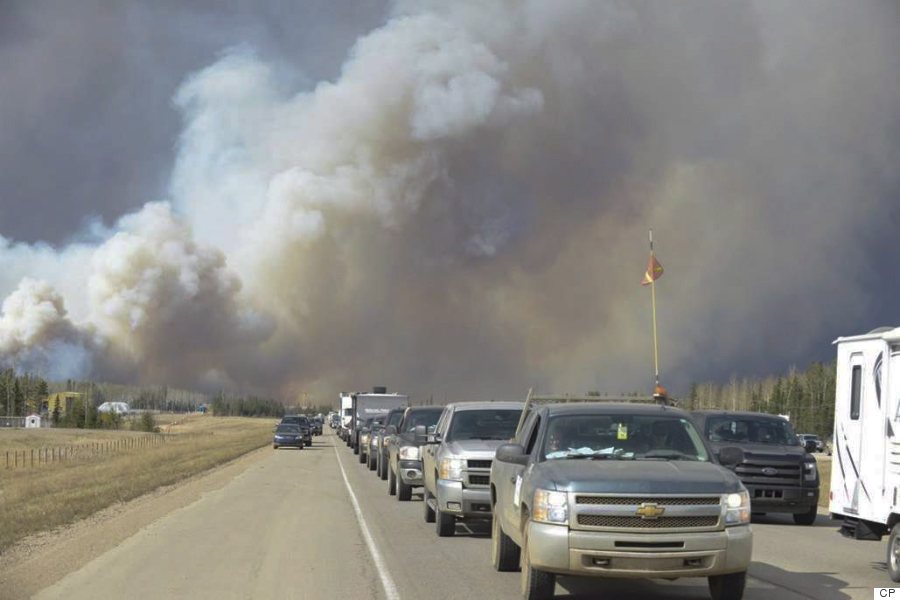 Smoke fills the air as people drive on a road in Fort McMurray on May 3, 2016. (Photo: Greg Halinda/The Canadian Press)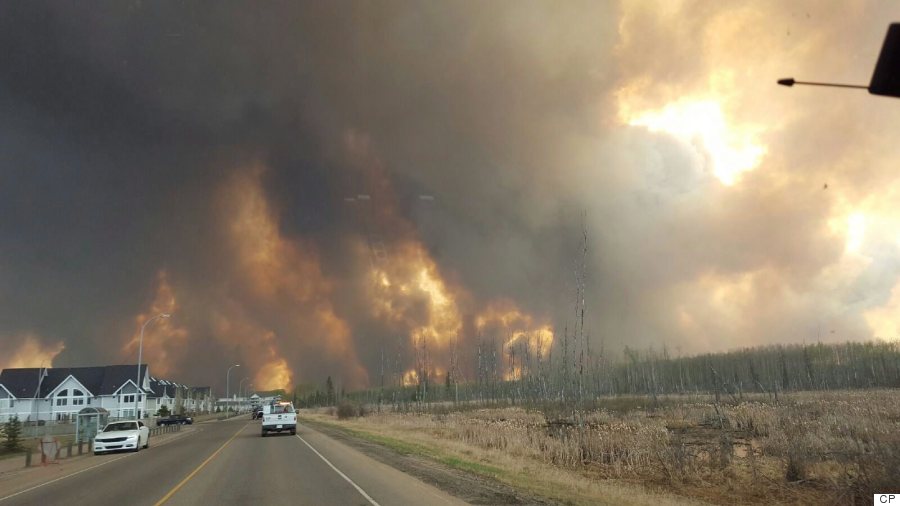 A wall of fire rages outside of Fort McMurray on May 3, 2016 as a wildfire threatened the city. (Photo: Mary Anne Sexsmith-Segato/The Canadian Press)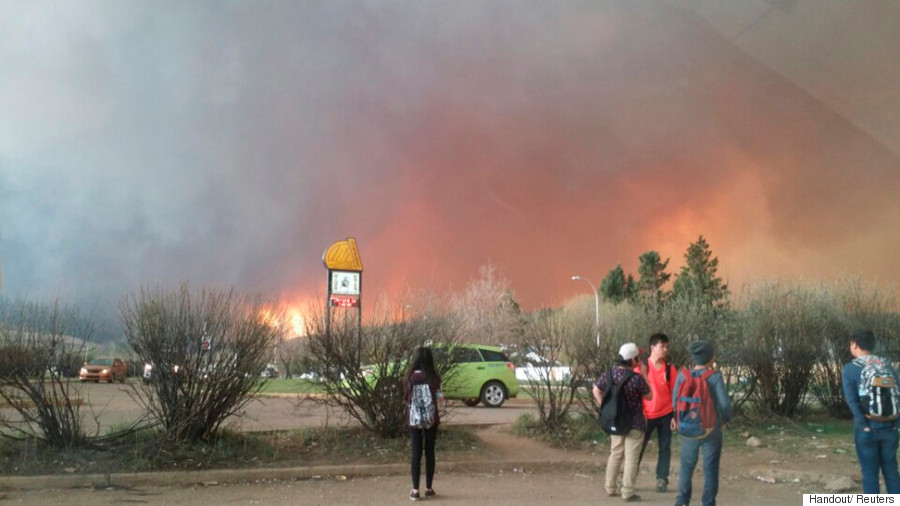 Students from Fort McMurray Composite High School are released early as a wildfire burns nearby in Fort McMurray on May 3, 2016. (Photo: Courtesy Kangen Lee/Handout via Reuters)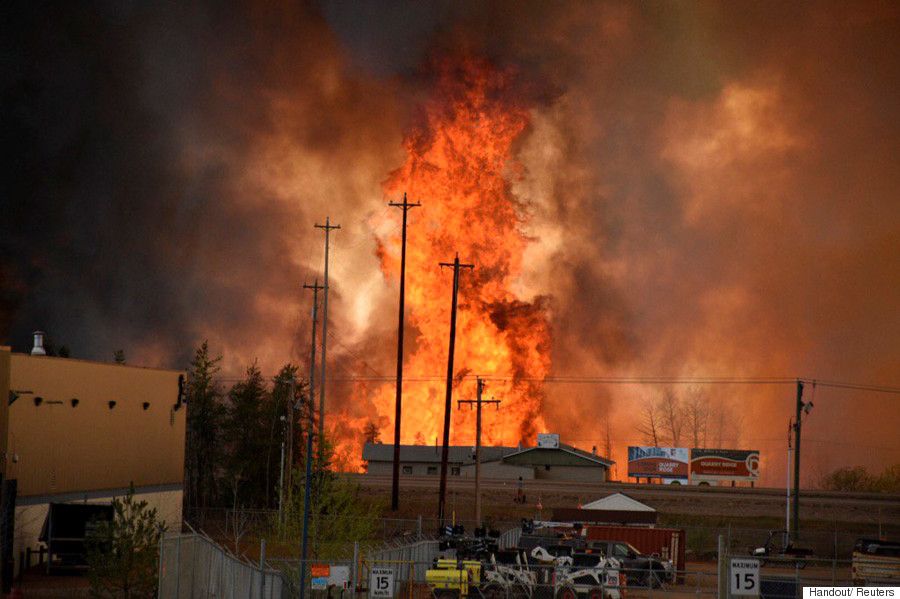 Flames rise in an industrial area south of Fort McMurray on May 3, 2016. (Photo: Courtesy CBC News/Handout via Reuters)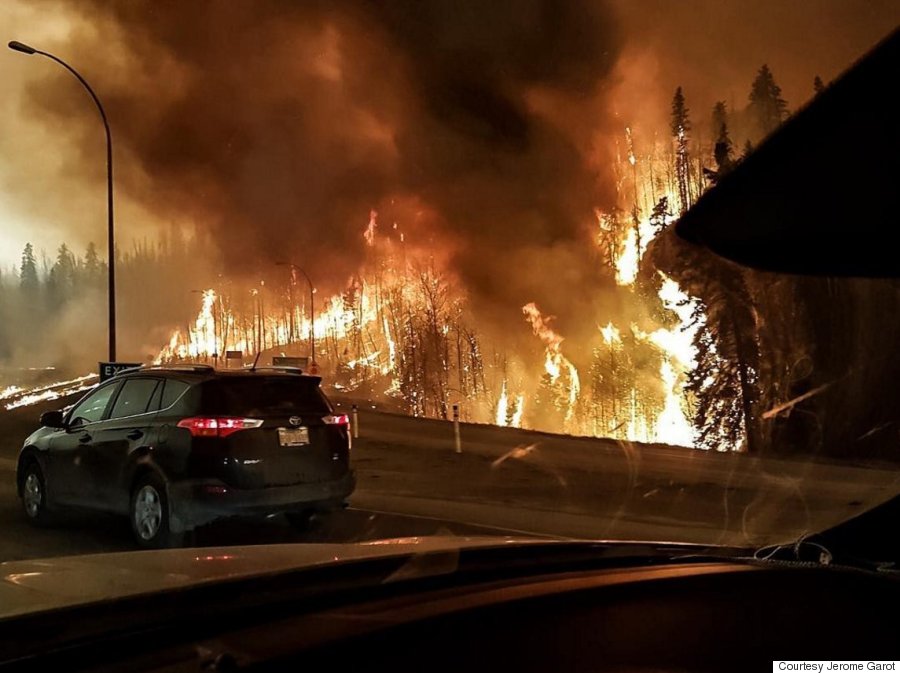 (Photo: Courtesy Jerome Garot)
A large tower of smoke billows over Fort McMurray on May 1, 2016. (Photo: jasonwoodhead23/Flickr)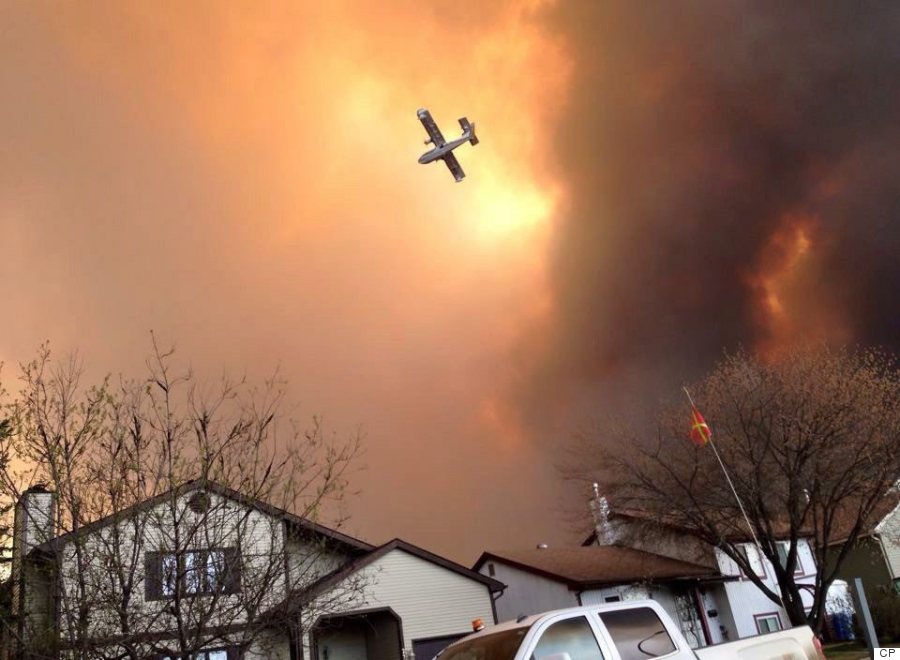 Smoke fills the air as a small plane flies overhead in Fort McMurray, Alberta on May 3, 2016. (Photo: Kitty Cochrane/The Canadian Press)
Here are some resources for Fort McMurray evacuees:
Also on HuffPost:
Fort McMurray Wildfire (May 2016)