When a baby's ready to be born, not even a raging wildfire or hurried evacuation can get in the way.
That's what staff at the Noralta Lodge at Fort McMurray Village discovered Tuesday when a woman who had been brought to the housing camp went into labour.
Blaire McCalla, marketing manager for the company that provides housing for oilfield workers, said as fire forced the evacuation of the city on Tuesday, several medical personnel from the local hospital were brought to the lodge, 26 kilometres north of Fort McMurray.
She said a woman who was in labour was brought to the lodge and gave birth with the help of the medical staff, "so that's kind of nice."
The woman was later transferred to an airstrip for evacuation.
McCalla was unsure whether the camp already had a medical centre or if the hospital workers set up a makeshift clinic, but either way, the facility served the purpose.
"And stress can often induce labour, so it's not all that surprising, I guess."
Fort McMurray Mayor Melissa Blake took to social media to mark the blessed event.
"Time for good news," she tweeted. "I hear a baby (maybe 2) was born tonight and delivered by @NoraltaLodge! Full service evacuation rocks! #bewellbabies"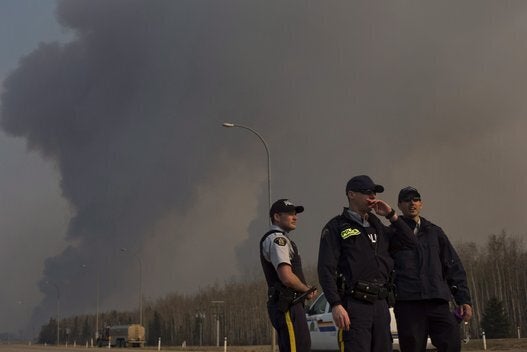 Fort McMurray Wildfire (May 2016)