Many of the tens of thousands who fled Fort McMurray this week have lost everything, but even as they struggle to land on their feet, some are finding that major life changes simply can't be put on hold.
For Elise Boissonneault, that meant finding a new wedding gown in time for her wedding, set to take place in Toronto on Saturday.
Boissonneault, 29, had to abandon the dress in the rush to evacuate. But by the time the bride-to-be arrived in the Ontario capital, dozens of strangers had offered her their wedding gowns, spurred by a friend's social media plea.
In the end, a local bridal shop donated two dresses — one for the ceremony and one for the reception — after seeing her struggle to choose between them.
"People have been so amazing, just trying to donate a dress to me, doing everything they can to help,'' Boissonneault said.
"It's honestly so touching I really can't describe the feeling I have, it just gives me butterflies to think that people would do such a wonderful thing.''
The massive evacuation has completely disrupted the rhythm of daily life, but for residents such as Boissonneault, important markers of life still go on — although not exactly as planned.
Addi McLaren said her sister Kyle, 27, had just put the finishing touches on a nursery when the evacuation order was issued Tuesday.
Suddenly, the nine-months-pregnant woman was travelling to Calgary, far from her doctor and all the baby gear she and her boyfriend had bought for their firstborn child, her sister said.
"She's been going through an emotional wreck. She lost her house, her car that was in the garage, she lost everything,'' McLaren said.
"I think she just assumed that they were evacuating her and that she would eventually go back to the house but within five hours she got notification that her house had burned down to the ground.''
"She lost her house, her car that was in the garage, she lost everything."
With the baby due Saturday, McLaren has been frantically trying to collect money for the couple as well as basic necessities for her sister.
A fundraising website had raised more than $11,000 by Friday afternoon, while others have pledged to donate cribs and other items, she said.
In the meantime, her sister has managed to find a new doctor at a hospital in Calgary and both she and the unborn baby received a clean bill of health despite inhaling a lot of smoke, McLaren said.
Hospitals across the province are offering prenatal care to any pregnant women who were displaced as a result of the fires and the Alberta Association of Midwives is also providing free services to those who contact them.
Help on hand for births, not deaths
A spokeswoman for the association said they've already connected several women with midwives and continue to receive calls. Those women will also receive care after their child is born, Heather Martin said.
"It's really going to help them in this stressful situation, where they're not at home, they don't have their normal support system, some of these women are separated from their family,'' she said.
While help is on hand for those giving birth, death is more difficult to accommodate.
A wake and funeral scheduled this week for a Fort McMurray man have been postponed indefinitely due to the crisis.
The executive director of the Nistawoyou Association Friendship Centre, where the wake was set to take place, said she had no information on the matter.
"You can go and buy a new couch and a new washing machine but photos are the embodiments of our memories and milestones."
As displaced residents celebrate new milestones, many are also trying to preserve memories and mementos of those gone by.
Julie Whitlock, a wedding photographer in Fredericton, said one recent client reached out to see if she could get copies of the wedding photos she was forced to leave behind.
The photographer, who is replacing the images free of charge, said it can be devastating to lose such precious keepsakes.
"Photos are irreplaceable. You can go and buy a new couch and a new washing machine but photos are the embodiments of our memories and milestones,'' she said in an email.
"For a couple who has lost all their material possessions, it was my hope that assuring they had these memories saved and safe would give them a little bit of happiness in an otherwise sad situation.''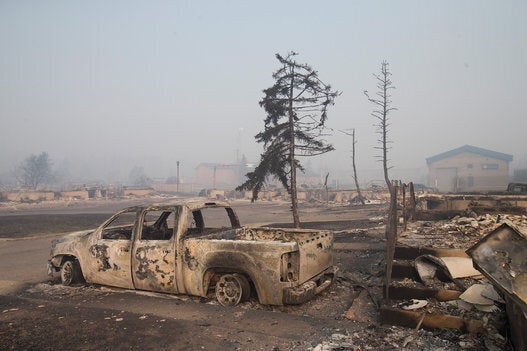 Fort McMurray Fire Aftermath (May 2016)