FORT MCMURRAY, Alta. — When Jacui Stordock heard that some people fleeing the wildfire in Fort McMurray were forced to leave their pets behind, she took action.
Stordock and some of her friends from Edmonton loaded up two pickups with animal carriers and drove north to help.
They managed to rescue 10 dogs, two cats and five kittens and were headed home Friday to take them to the Edmonton Humane Society.
"I know that if I had to leave my guy behind I would have wanted someone to go back and try and get them," she said during a stop in Wandering River as her colleagues gave water to a howling Malamute and some thirsty St. Bernards.
"We went to as many houses as we could."
"I could just never imagine leaving my pet behind, ever."
Some evacuees have placed notices on social media about their pets in the hope that someone would care for them.
Misha Blades said in one home, they found a bunch of dogs that hadn't had food or water since Tuesday, when tens of thousands of people were forced from the city.
"They were getting pretty heated up in a little duplex all by themselves," he said. "They were pretty stressed out."
Blades said they know the owners of most of the pets and at some point their owners will claim them.
Some pet owners are so worried that they have been calling emergency lines asking for help.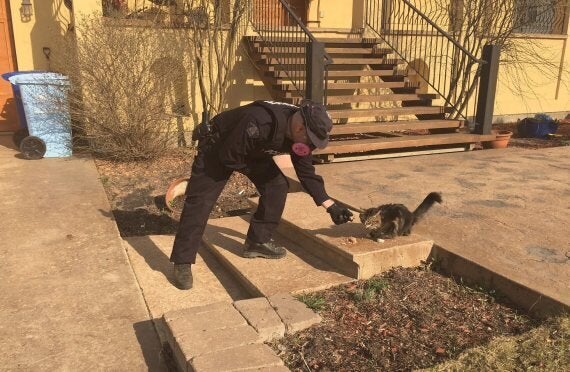 A RCMP officers offers food to a cat in Fort McMurray, Alberta May 6, 2016. (Photo: CP)
RCMP were urging evacuees who are concerned about their pets to not call 911, but said Mounties patrolling Fort McMurray would do what they can for any animals they find.
Police said people should instead contact groups such as Supporters of Alberta Animal Rescues. There is also a Facebook page called Fort Mac-Fire Pet Rescue.
The Edmonton pet Samaritans fussed over their furry cargo, feeding the dogs treats and calming a nervous cat laying in a plastic laundry basket as she fed her brood of kittens. Keaton Souster was eager to get going so they could let the dogs out of their carriers.
Ariel Blondeau said it was great to help, but she knows that many pets are still in Fort McMurray with no one to look after them.
"I could just never imagine leaving my pet behind, ever," she said.
"Even though we helped these guys we wish we had more room. We only got into a small area.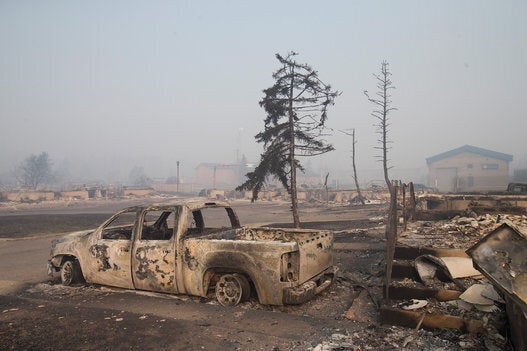 Fort McMurray Fire Aftermath (May 2016)