Miami Heat basketball player Dwyane Wade is being criticized for taking pregame shots during the Canadian anthem at a game against the Toronto Raptors at the Air Canada Centre.
In a video uploaded Saturday on YouTube by user Jer M, it shows Wade taking shots behind his teammates as they line up for "O Canada."
As the only Canadian team in the NBA, the Canadian anthem is sung with much pride at the ACC and every city the Raptors visit. During game three in their playoff series with Miami, Wade did end up standing with his team during "The Star-Spangled Banner."
Some basketball fans took their thoughts to Twitter, including Toronto mayor John Tory and city councillor Norm Kelly.
After losing against the Raptors in game three 95-91, Wade was interviewed about his pregame routine.
"I'm not a disrespectful person. So if anybody thinks I'm being disrespectful towards a country, then they have no idea of who Dwyane Wade is," he told ESPN.
According to Yahoo Sports, the NBA also released this official statement: "We spoke to the team and the Heat will work with its players to make sure no pregame routines interfere with either anthem going forward."
The Toronto Raptors take on the Miami Heat for game four in Toronto on Monday at 8 p.m. EST.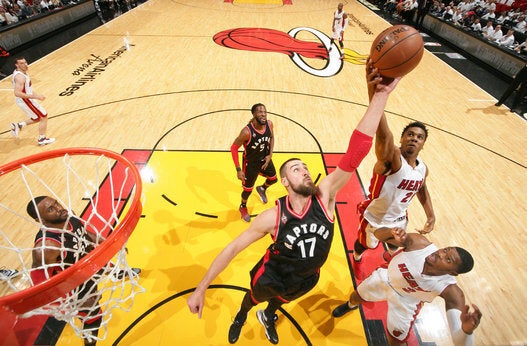 Toronto Raptors 2015-2016