The Fort McMurray wildfire is now being considered a disaster on the level of Hurricane Katrina.
The reason? It could damage Canada's economy worse than the impact the 2005 hurricane had on America's Gross Domestic Product (GDP).
Fort McMurray's losses could total as much as $9 billion, according to Bloomberg.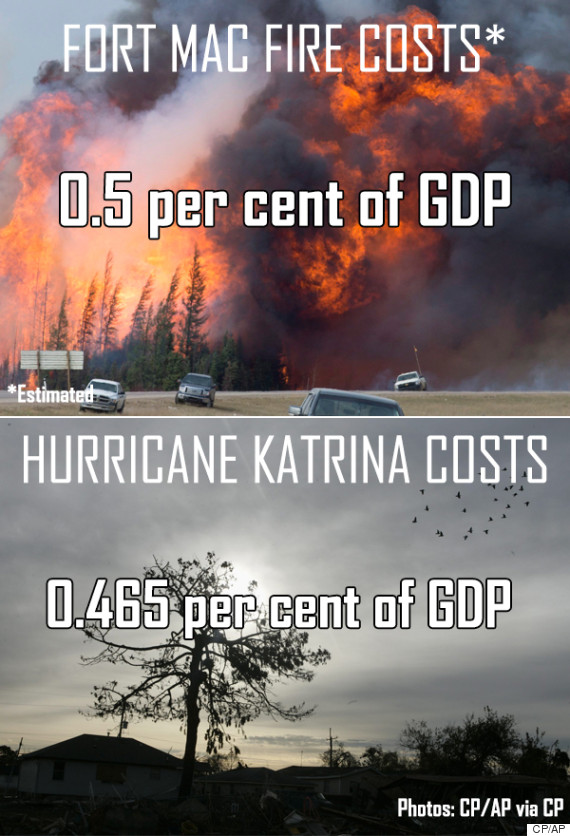 Canada's 2016 GDP is estimated to be $1.8 trillion — so losses of $9 billion would be equivalent to 0.5 per cent.
By contrast, Hurricane Katrina cost approximately US$60.5 billion, against GDP of US$13 trillion — an equivalent of about 0.465 per cent.
The hurricane hit the oil and gas industry based out of the Gulf of Mexico particularly hard, shutting down 95 per cent of oil production in the region, according to ABC News.
The Fort McMurray fires have forced economists at major banks to lower projections for Canada's economy, which was expected to grow by as much as 1.5 per cent in the second quarter, The Financial Post reported.
BMO Capital Markets economist Benjamin Reitzes told the newspaper it's now unlikely the economy will grow at all.
Labour disruption
It's still too early to determine precisely how much of Canada's economy could be hurt by the wildfire. The blaze has destroyed an estimated 1,600 structures and displaced approximately 88,000 people.
Nevertheless, economists expect to see Alberta's 7.2 per cent unemployment rate jump next month, The Calgary Herald reported.
"It will be temporary, it's not the same thing as a systemic downturn in the economy," ATB financial chief economist Todd Hirsch told the newspaper. "But I do expect the main number to be kind of severe."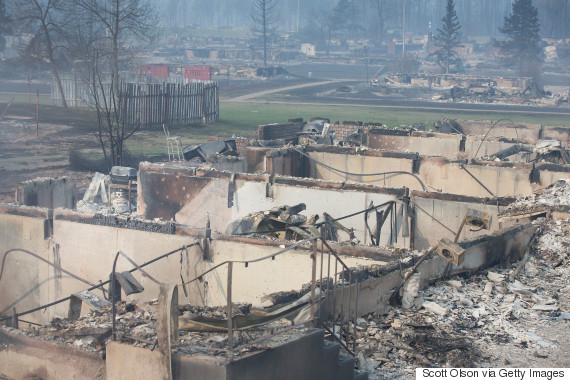 Home foundations are all that remain in a residential neighborhood destroyed by a wildfire on May 6, 2016 in Fort McMurray, Alta. (Photo: Scott Olson/Getty Images)
The unemployment rate could grow to as much as 15 per cent, Herb Emery, research chair with the University of Calgary's school of public policy said.
And while those numbers could improve once reconstruction efforts begin, Emery said the Fort McMurray area "may never recover to what it once was."
"When we return to whatever the new normal is, how many jobs are there going to be in [the Fort McMurray region]?" he asked.
"I suspect a lot of people up there were trying to wait out the low oil prices, hoping their businesses would come back. And this might be the blow where they say, 'it's not worth going back.'"
A quick restart for the oilsands
The oilsands may provide a rare bit of good news for Fort McMurray amid the wildfire.
Producers such as Syncrude and Suncor could restart operations within days, so long as they shut down safely, Bloomberg reported.
But bringing production back online could also depend on how many workers are available after so many people were evacuated from the area, Harold York, vice-president of integrated energy at consulting company Wood Mackenzie told the news agency.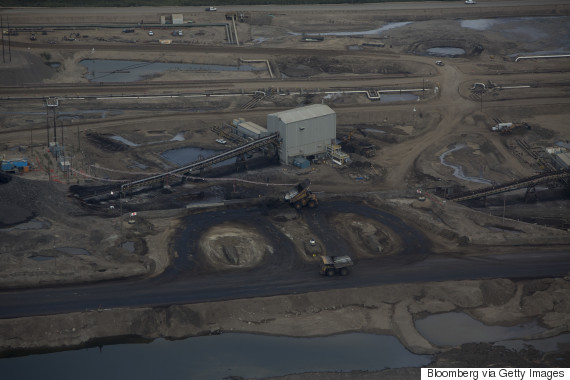 Oil is refined at a Suncor Energy Inc. oil sands mining operation near Fort McMurray on Aug. 13, 2013. (Photo: Brent Lewin/Bloomberg via Getty Images)
So far, only Nexen's oilsands operation have been damaged from the wildfire, and that was minor.
Assuming that oilsands operators start production back up in 10 days, they will have lost 14 million barrels since the fire started, according to Goldman Sachs.
Approximately half of oilsands capacity was estimated to have been shut down as a result of the fires, according to Reuters.
Also on HuffPost: