According to Vagabomb and Buzzfeed, Naina Kataria was on a date at the movies when an ad for women's razors came on. Kataria told her date she felt celebrities shouldn't endorse hair removal products, as it sends out a message that in order to be beautiful, one must be hairless, to which he replied, "OMG you're too much of a feminist."
"That made me ponder over two things — one, about the unrealistic standards that we've set for beauty. They keep saying that it's optional, but I believe otherwise because these norms are something that are just ingrained into us," the engineer-turned-freelance writer told Buzzfeed. "The second thing that hit me was how much we hide all these things from men. Women go through excruciating amounts of pain to look merely presentable and men don't even have an idea of what it's like."
Following her date, Naina then posted the following poem about body hair on Facebook, alongside an image of her leg, hair and all:
"When a man tells me / I'm beautiful / I don't believe him. Instead, I relive my days in high school / When no matter how good I was / I was always the girl with a mustache," she begins the poem.
She goes on to talk about the policing of body hair, and the double standard that lies between men and women when it comes to hair removal.
"He doesn't know of the hot wax and the laser / whose only purpose is to / replace your innocent skin / with its own brand of womanhood," she continues. "He doesn't know of the veet and the bleach / That uproot your robust hair / in the name of hygiene."
She concludes the post by writing, "So when a man calls me beautiful / I throw at him, a smile; a smile that remained / After everything the strip pulled away / And I dare him / To wait / Till my hair grows back."
After six days, the post has already received 42,000 reactions, over 10,000 shares and countless comments from women sharing their personal stories about their relationship with body hair. And Naina says that's what matters most to her at the end of the day.
"I initially published it anonymously on the page because I wanted people to read what I wrote and not pay attention to who had written it," she wrote in a follow-up post on Facebook. "I have been receiving loads of compliments for my fifteen seconds of fame and motivating as they are, they don't really matter to me, to be very honest. What matters more are the people came forward and shared their stories."
She continues, "When I was writing this piece, I was just trying to let things out of my head so that if there was anybody anywhere who felt the same way, they would know that they're not alone in this, because I know what that feels like. I never want anyone else to feel that way. So if you really wish to compliment me on what I wrote, stop getting grossed out by hairy women. That would be more than enough."
To see more of Naina Kataria's writing, visit her Facebook page, "Infinite Entropy."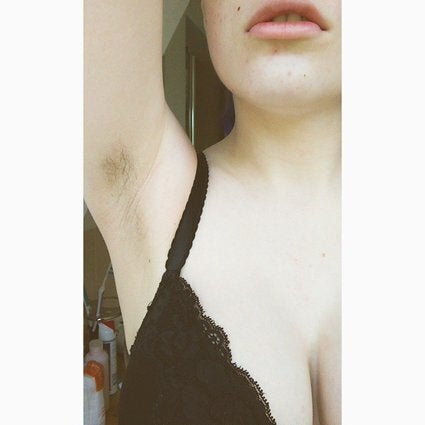 Images Of Women With Body Hair