Belgium-based beer behemoth Anheuser-Busch has announced that it's swapping the Budweiser name on the front of its 12-oz cans and bottles with "America."
Yes, "America."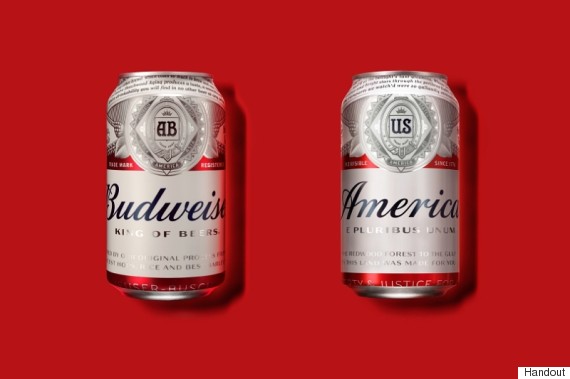 Budweiser cans and bottles will look a little more American than usual this summer. (Handout)
The new design aims to "inspire drinkers to celebrate America and Budweiser's shared values of freedom and authenticity," the company said in a release on Tuesday.
The bottles will be available from May 23 until after the U.S. election wraps up in November.
The move is part of a summer campaign called "America is in Your Hands," which "reminds people from sea to shining sea to embrace the optimism upon which the country was first built," according to the release.
Of course, no gimmicky patriotic event like this is complete without snarky reactions on social media. Twitter stepped up to give its usual constructive remarks on the name change:
Budweiser calling their beers America is perfect because if you could drink America it would definitely taste like carbonated bilge water.

— Matt Christman (@cushbomb) May 10, 2016
This is essentially an attack on Canada:
with budweiser being rebranded "america," I presume bud light is being rebranded "canada"

— Chris Ziegler (@zpower) May 10, 2016
Budweiser calling its beer "America" for 2016 is perfect. It's the beer people end up drinking even though they really wanted a better one.

— Greg (@_____greg) May 10, 2016
Is it too late for America to rebrand itself as "Budweiser" because that would make more sense.

— RUSS BENGT$ON (@russbengtson) May 10, 2016
It's never too late in America.
Im fine w Budweiser changing its name to America since our country is an insane keg party.

— Mike Glazer (@GlazerBooHooHoo) May 10, 2016
Formally starting a movement for America to rename itself Budweiser.

— Josh Christie (@jchristie) May 10, 2016
Budweiser is renaming their beer "America", but it's pronounced "[audible eye roll]".

— Jason Sweeney (@sween) May 10, 2016
This post will be updated when we confirm the name change has not affected the quality of Budweiser whatsoever.
Also on HuffPost
Top 10 Best Places for Beer Snobs