A Fort McMurray, Alta. woman is overjoyed after RCMP found the pet pig she was forced to abandon while fleeing from an out-of-control wildfire.
Last week, Michelle Coutu fled her home on Draper Rd., on the outskirts of Fort McMurray.
"Friendly but skittish. No BBQ jokes please," Coutu wrote in a Facebook post about her missing pet. "He is our little buddy."
On Monday, RCMP took to Twitter to share photos of pets they had found abandoned in the city — including one with a familiar snout and curly tail.
"THAT'S HIM!!!!!!" she wrote.
This wasn't Marshall's first evacuation. Coutu said during a flood a few years ago, it took her and three RCMP officers to get the big guy to safety.
She wasn't the only happy pet owner this week. The Alberta SPCA wrote on Facebook that the organization is beginning to return pets — including "cats, dogs, reptiles, fish, guinea pigs, rabbits" — to their owners.
The Fort McMurray wildfire is now over 2,200 square kilometres. More than 1,500 firefighters are fighting the blaze.
It's not known when evacuees will be able to begin returning home.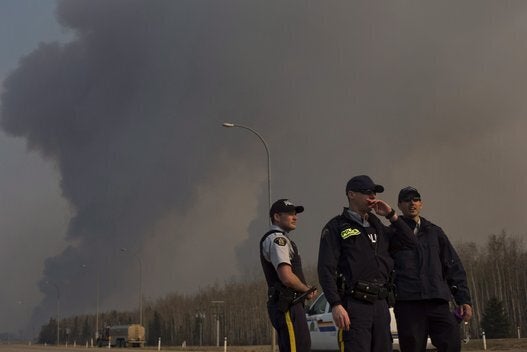 Fort McMurray Wildfire (May 2016)