OTTAWA — Some central players in the NDP say the party's upcoming leadership race may have a significant impact on its ability to raise money. They have distributed a letter ahead of a critical meeting of the party's federal council that could set terms of the race.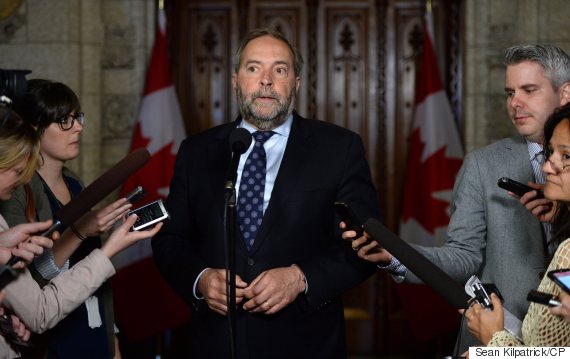 NDP Leader Thomas Mulcair speaks to reporters following a caucus meeting on Parliament Hill in Ottawa on Wednesday, May 11, 2016. (Photo: Sean Kilpatrick/CP)
Last month, rank-and-file members of the party flatly rejected Tom Mulcair's bid to stay at the helm of the party and voted in favour of a leadership review. The race could last up to two years, though the letter reminds council members that the party's 2003 and 2012 leadership campaigns ran eight months. It also says the council should consider the impact on fundraising, given the NDP's debts from last year's 78-day election campaign. Recent figures released by Elections Canada paint a bleak picture of the party's fundraising efforts in its first quarter, when it collected just $1.3 million.
ALSO ON HUFFPOST:
Key NDP MPs Defeated In 2015 Election