An Indian woman has become one of the oldest mothers in the world after she gave birth at the age of 70.
Daljinder Kaur and her 79-year-old husband Mohinder Singh Gill welcomed a healthy baby boy on April 19 after undergoing two years of IVF treatments. The couple's son, Arman, was born at National Fertility Centre in Haryana state and weighed four pounds, four ounces.
70-year-old Indian woman gives birth to first baby, says not too old to be mother https://t.co/BRWkAWv2fRpic.twitter.com/gDMD1Egbk2

— The Straits Times (@STcom) May 10, 2016
It cannot be confirmed that Kaur is the oldest mother in the world because the new mom has no birth certificate, which is not uncommon in India, The Guardian reports.
However, Kaur says she is about 70 years old. If she is correct, this would make her the world's oldest mother.
This is the second time a woman from India has given birth to her first child at the age of 70. The first was in 2006 when Rajo Devi welcomed a daughter, Naveen, after receiving fertility treatments from the same clinic.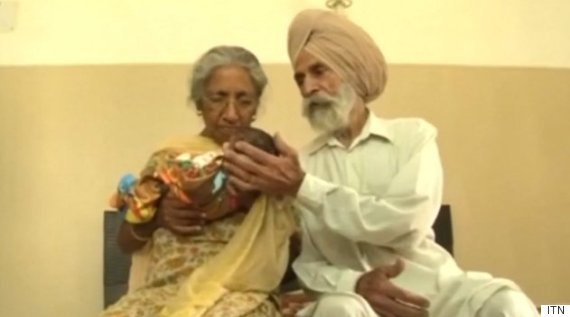 This was the Kaur's first pregnancy after being married to her husband for 46 years. In order to conceive, Kaur used donor eggs from a fertility clinic, since she was 20 years post menopause.
While this might sound unusual, it's not the first time this has happened. In January, a 53-year-old Texas woman, who was seven years past menopause, gave birth to her own grandchild after acting as a surrogate for her daughter.
According to The Telegraph, giving birth post-menopause is also an increasingly common practice in India. The low cost and unregulated practice of IVF treatments, as well as the huge social pressures to have kids, is the main contributing factors of this.
Kaur's fertility doctor, embryologist Anurag Bishnoi, says he was reluctant at first to allow the mother to undergo IVF. However, after she was "found to be fit to conceive," they began the treatment.
"God heard our prayers. My life feels complete now. I am looking after the baby all by myself, I feel so full of energy."
"We started work within two months in 2013 but the first attempt failed, which is normal," Bishnoi explained. "After six months, another attempt was made and that also didn't succeed. Finally, the third attempt was successful."
Following her son's birth, Kaur told AFP, "God heard our prayers. My life feels complete now. I am looking after the baby all by myself, I feel so full of energy. My husband is also very caring and helps me as much as he can."
According to Kaur's husband, an ongoing family feud prevented the couple from trying to have kids.
"It was embarrassing to not be able to produce a child, no doubt, but we have been busy with litigation all our life and hardly had time to think it over," the new dad told the Hindustan Times. "After we got a little free a few years ago, we thought of trying for a baby."
Also on HuffPost