A Conservative backbencher says that the Liberal government is becoming "the government of death."
Arnold Viersen, who represents the Alberta riding of Peace River—Westlock, addressed the "March for Life" anti-abortion rally on Parliament Hill Thursday.
The rookie MP noted that, as first reported by Sun Media, Prime Minister Justin Trudeau lifted a restriction on Canadian foreign aid dollars being used to fund abortion services in other nations through the Maternal, Newborn and Child Health Initiative.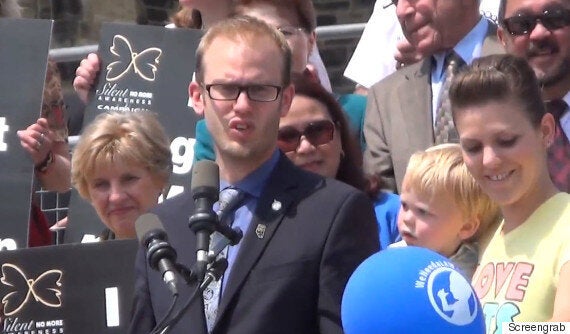 Arnold Viersen addresses the 'March for Life' rally on Thursday, May 12, 2016.
The previous Conservative government of Stephen Harper committed billions to the global fund but notably refused to allow that money to be used for abortion. Liberals pledged in their platform to cover the "full range of reproductive health services" in the initiative.
Viersen told the crowd — which event organizers pegged at 20,000 — that while the Harper government "stood for life," Liberals have decided Canada should "export death."
With rally-goers behind him holding signs expressing regret for their own abortions, Viersen accused the Trudeau government of co-opting the initiative to "not only include abortion, but to promote it."
"When you combine this with the recent legislation on assisted suicide and euthanasia, it's not hard to see that this Liberal government is quickly becoming the government of death," Viersen said, referring to recent legislation on physician-assisted death.
He called on those at the rally to write to their local MPs and to continue standing for life.
Trudeau targeted for pro-choice pledge
While the "March for Life" is an annual event in Ottawa, this was the first since Trudeau became prime minster last fall.
Anti-abortion groups sent extremely graphic flyers to the mailboxes of Canadians last year targeting Trudeau for his decision to reject as candidates any Liberal who would not support abortion rights in the House of Commons.
Trudeau addressed the controversy over his pro-choice pledge in a memorable speech on the topic of liberty in March 2015.
"For Liberals, the right of a woman to control her body is more important than the right of a legislator to restrict her freedom with their vote," he said at the time. "MPs who disagree with that have other choices. They can sit as independents, or as Conservatives."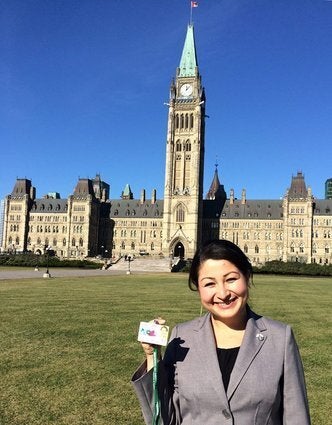 Rookie MPs To Keep Your Eye On