Looks like one soon-to-be married British couple has some high expectations for their guests, according to Mumsnet user Puzzledandpissedoff.
The woman, who is an ex-colleague of the bride, wrote a post on the popular U.K. parenting website in early May entitled, "wedding message ... please help me, what the hell do I say??," explaining how she received a message from the bride saying how the £100 (C$187) cheque she gifted the couple "didn't seem to match the warmth of her good wishes on their big day."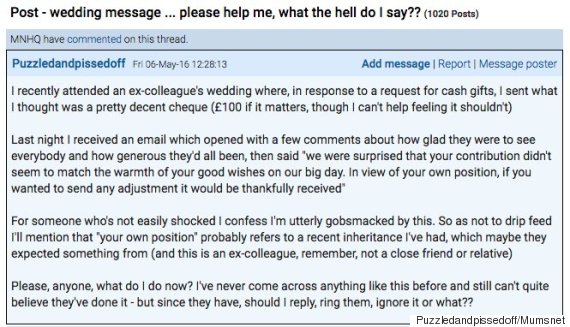 The anonymous user described herself as "utterly gobsmacked" by the bride's message, as were many of the people who read her post.
"That is entitled and grabby," one user wrote. "It's a gift not an obligation and many people wouldn't have given so much to an ex colleague."
"This is all so bizarre," another replied.
Many others urged her to cancel the cheque all together.
The woman also noted in a later reply that the couple may have expected more as a result of a recent inheritance she received.
Over 1,000 responses later, the guest later shared that she sent the bride one very simple message in return. "It's unlikely I'll bump into the B&G [bride and groom] much in future as I'm retired now, which is probably just as well. However I've just replied to her email with one sentence: 'I assume this was some sort of mistake?'"
A few days after the original message was first posted, the unnamed user confirmed that she has yet to hear back from the bride.
Also on HuffPost