OTTAWA — Racism isn't the culprit, but that doesn't change the fact that the challenges faced by Canada's Aboriginal Peoples have long remained out of sight and mind to many, says former Liberal prime minister Paul Martin. Long a vocal champion of indigenous rights, Martin is perhaps best remembered as the architect of a five-year, $5-billion funding agreement for aboriginal communities that was abandoned in 2006 by Conservative successor Stephen Harper.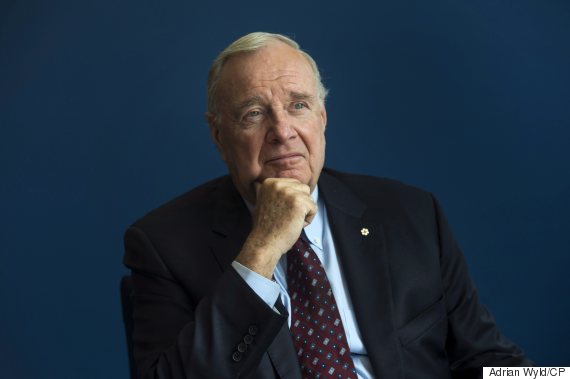 Former prime minister Paul Martin poses for a portrait following an interview with The Canadian Press in Ottawa, Thursday May 12, 2016. (Photo: Adrian Wyld/CP)
In an interview Thursday with The Canadian Press, Martin was asked whether racist attitudes are to blame for why the plight of Canada's First Nations, Metis and Inuit have long failed to capture the national imagination. When more Canadians grasp the challenges playing out in indigenous communities, they will realize it is totally unacceptable to discriminate against them, Martin replied.   "I do not believe Canadians are racist," he said. "I do believe, unfortunately, that the whole issue that we are talking about is invisible to so many Canadians ... "We are a generous people when we rise to an occasion of which we are aware. Unfortunately, the invisibility of the aboriginal issue in this country is something that has been locked in by history, but it is my belief if we speak about ... more and more Canadians are becoming aware of it."
"We just want to make it absolutely clear that we are ending the ability for any government, current or future, to use tax dollars to fund what are partisan or quasi-partisan ads."
He also said supports Cindy Blackstock, who spent nine years fighting the government over aboriginal policy and won a landmark ruling from the Canadian Human Rights Tribunal in January. It found Ottawa discriminated against First Nations kids in funding child welfare services on reserve. Addressing the child welfare problem will require money, but also working in partnership with advocates, Martin said. "It is first money, it is second recognizing that we have to work with the First Nations," he said.
Praises Cindy Blackstock
"There are tremendous child welfare advocates out there, people who are very knowledgeable, people like Cindy Blackstock and what the government has to do is to work with them ... for cultural reasons, traditional reasons, and just simply that's where the expertise lies." Working together could produce results quickly, he added. "We won't do it if we are turning our back on them," he said. "Cindy Blackstock is right." Martin's voice lends credibility to the notion that First Nations children are worth the money and can succeed, given the proper opportunity, Blackstock said. She noted, however, the current government's commitment of $71 million for the issue in this year's budget falls far short of what is required to close the gap.
"(It's) going to mean more investment from the federal government for equitable child welfare services and more flexibility in the way that the funds are rolled out, so it can actually meet the needs of children," she said. "Right now, the funding is totally not based on the needs of kids and that needs to change." Martin said his Liberal government had child welfare services on reserves in its sights when it drafted the Kelowna accord — the 2005 funding agreement with aboriginal leaders and the provinces that ultimately never saw the light of day. He said the former government's refusal to honour the agreement still robs him of sleep. "It starting keeping me up at night on the day the Conservatives did it," Martin said.  "It made no sense in the world and has it bugged me for 10 years? Absolutely. "How can you go along and say to a six-year-old going into Grade 1 that you're not going to get the same type of education as a six-year-old kid who is living 10 miles from you. It is just wrong to do that and ... not only is it wrong morally but it is economic lunacy."
ALSO ON HUFFPOST:
Residential Schools: A Photo History