An Edmonton restaurant has come under fire for forcing female employees to wear high heels.
A former waitress at a Joey location on Jasper Avenue says she was forced to wear high heels to work, despite experiencing extreme pain and discomfort.
"My friends feet were bleeding to the point she lost a toe nail and she was still discouraged and berated by the shift manager for changing into flats (specifically told that heels would be required on her next shift the following day)," wrote Nicola Gavins on Facebook, accompanied with a photo of her friend's bloodied feet.
"Sexist, archaic requirements and totally disgusting policy."
The post was met with dozens of replies from women who shared similar stories of sexism in the service industry.
"I had worked for Joeys in Edmonton as a hostess in 2007. I was told I could be moved into a server once I lost weight and got hotter. 'Oh ya after like 6 month of running around in heels, you'll really slim down,'" wrote one commenter.
"I had to wear heels while working at Earls until i developed a problem with my ankle from continuous wear," added another.
Training manual says heels required
The unnamed server also shared a copy of her training manual at the restaurant with CBC News.
The manual states women must wear heels with a minimum height of one inch.
High heels can carry a number of health risks, including damaged tendons and an increased risk of injury.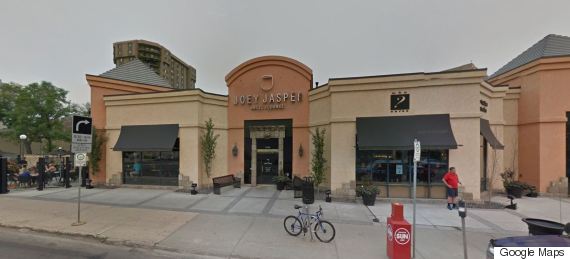 A server at an Edmonton Joey restaurant claims she was forced to wear high heels at work despite the shoes injuring her feet. (Photo: Google Maps)
Joey disputes the server's claim.
"There is no minimum height when it comes to our shoe policy," vice-president of marketing Britt Innes told Global News.
Innes added that Joey reached out to its former employee about the situation and sent out a company-wide memo making their dress code clear.
However, Gavins believes that those policies may only have been changed after her friend's story came to light.
"Still waiting on Joey Restaurant to reply to my inquiries on when their policies were changed regarding footwear," she wrote on Facebook.
"Hopefully we see some positive changes and fair labour practices for people in the service industry."
"They have consistently asked people to direct message them and haven't answered anything in social media except to say they changed policy recently. How recently? 5 minutes after my post blew up? Will they claim that my friend chose to work in heels to avoid scrutiny?
"They've already claimed they sought her out when she contacted them."
"Hopefully we see some positive changes and fair labour practices for people in the service industry," Gavins added.
Also on HuffPost: