It started out as a comedic connection at a local stand-up show and ended in a digital friendship like no other.
Sara Starkman and Nikki Saltz first met at Saltz's stand-up show in Toronto and soon began discussing a web series about feminism, literature and well, sluts.
Saltz had originally come up with the vision of a feminist book club and the two took their idea to a pitch competition called The AMP (Audience Metrics Partnership). The competition asked Canadians to submit a digital series for millennial women, and their idea earned them a spot in the top three.
"It was always going to be a web series," Saltz tells The Huffington Post Canada. "We're so disgusting and lewd and it seemed completely unbelievable that any network exec would accept the kinda thing we wanted to do."
The Slutty Book Club was born: a YouTube series starring two funny Toronto women reviewing everything from Jamie Oliver's cookbooks to Kim Kardashian's debut title to books we read as teenagers but never fully questioned critically.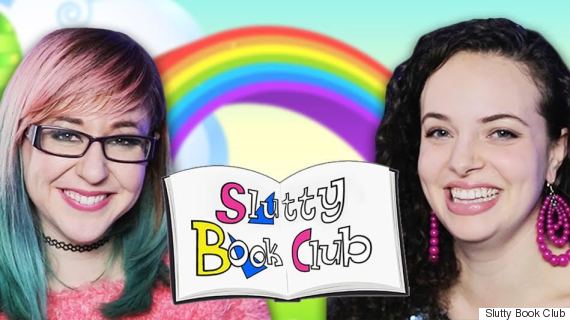 "It really bothers me that there is a still the idea if you're funny and overly sexual, you can't be an intellectual, and if you are an intellectual, you're a sexy librarian," Saltz says. "These scripts come from men and it was important for our audience of younger women [that] we can joke around and talk about feminist issues and not have to answer to anyone but ourselves."
Launched in mid-April with five episodes and other franchises, each episode is under 10 minutes and for the most part, features unscripted bantering between Saltz and Starkman.
"We seem to have an organic back and forth its what helps us through all of this," Starkman says.
And while the feedback from their fans has been positive, the duo says they did recieve backlash after an episode reviewing unknown "facts" about Kardashian's book Selfish.
In the episode above, the two took on the reality TV star and her husband, rapper Kanye West, but some commenters criticized the duo for not being feminists.
"We got comments like, 'If you are to speak poorly of another woman you are not a feminist,'" Starkman says. "It's not like we spoke poorly of her or we weren't supporting [Kardashian]. Her book was crap and we don't have to like it because she's a woman."
And even though they didn't like Kim's book, it's worth noting that novels featuring women protagonists are often overlooked and undervalued.
According to research from author Nicola Griffith, a majority of the significant literary prizes in Western countries are awarded to writers who feature a male protagonist. Griffith also notes many of these titles are also written from a male perspective.
If you are looking for new titles for your book club, we do recommend some of these awesome female authors. Earlier this year, actress Emma Watson even launched her own public feminist book club called "Our Shared Shelf" — a place where members can debate, discuss and interact with monthly reads.
But for Starkman and Saltz, taking on classics with a feminist angle is probably one of the most important part of their new job. Whether it's questioning the absence of women in Lord of the Flies to how fairy tales handle safe sex (or the lack of), both women want to create a sense of community.
"What's nice about the Internet is we can interact with people watching the show," Saltz says. "I like being able to talk to those girls directly."
ALSO ON HUFFPOST: