If you're reading this, it's too late — 6ix God's six o'clock shadow is no more.
Rapper Drake has shaved off his signature beard, in preparation for his upcoming return to "Saturday Night Live" ("SNL").
In a now-deleted Instagram post, Drake posted a black-and-white gritty shot of his newly beardless baby face. He must've predicted the Internet's backlash, because his selfie is accompanied with the promise of his facial hair's triumphant return.
"Beard making an epic come back in 2 weeks... only for you @nbcsnl," he wrote.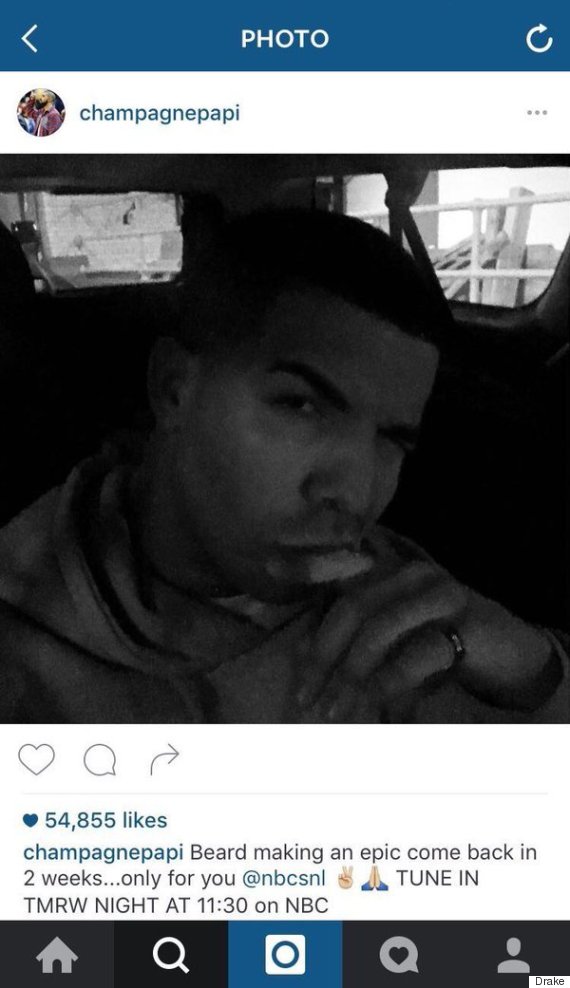 That didn't placate Twitter at all. Drake's fans scolded the rapper for being on his worst behaviour, taking issue with the fact that he clearly didn't know himself, or his worth.
Drake cut his beard. He is no longer "Champagne Papi". He is now "Four Loko Man"... Bye

— StepMuvaCooder™ (@NaturalBadAssss) May 13, 2016
Apparently Drake shaved his beard for SNL what more could white comedians take from me

— Shakira (@shakiraaevans) May 13, 2016
My reaction to Drake cutting his beard. pic.twitter.com/2O2jCrlAne

— Dyls (@dylsxmakeup) May 13, 2016
AUBREY SHAVED HIS BEARD BYE IDK A DRAKE UNTIL IT GROWS BACK

— Zarriah (@drakegroupie) May 13, 2016
In loving memory of Drake.
He ain't dead but he shaved his beard... pic.twitter.com/aXNuEAzqbg

— ️ (@ToniFenty) May 13, 2016
I know people are waiting for me to comment on Drake's beard but I just ask that you all respect my privacy during this difficult time.

— Allison P Davis (@AllisonPDavis) May 13, 2016
Drake shaved his beard pic.twitter.com/0xwNscj8MB

— sherlana (@sherlanana) May 13, 2016
Drake shaved his beard and now he's back to looking like Lumiere from Beauty and the Beast. Sir... 😒😒 pic.twitter.com/740fmgqmlN

— Awesomely Luvvie (@Luvvie) May 13, 2016
"SNL" fed the frenzy by posting a throwback to Drake's pre-beard era. The gif features Drake from his 2014 appearance on the show, channeling Lil Wayne as Urkel.
#FridayFeeling pic.twitter.com/0IwLCpcdgv

— Saturday Night Live (@nbcsnl) May 13, 2016
It's not surprising that Drake's pulling all the stops out for "SNL." His last appearances as both guest and as a a surprise musical act have shown off the former "Degrassi" actor's versatility and comedic chops.
We can't wait for his "SNL" skits, especially if actress Leslie Jones makes good on her promise to spank Drake like a baby.
Until then, let us all have a moment of remembrance for Drake's beard and how it made us feel.
Drake beard giving me all types of life 😍❤👅 pic.twitter.com/a5hVFYGE2z

— Jadaaaaaa (@estco98) July 1, 2015
But Drake & this beard though....😍😍😍 pic.twitter.com/aaY3KzEIeq

— Zombie Hug ♍ (@VodkaNMoufHugs) July 1, 2015
the thing about Drake's current beard length is I watched his Instagram video today and accidentally whispered daddi

— beautiful lunatic (@mostlyemotional) June 26, 2015
RIP Drizzy facial hair, 2015 - 2016. May a flight of OVO hoodies sing thee to thy rest.
Follow Huffington Post Canada Style on Pinterest, Facebook and Twitter!
Also on HuffPost