Over 88,000 evacuees safely fled Fort McMurray last week, as a raging wildfire forced the entire northern Alberta community from their homes — sadly, however, the area's wildlife was left behind.
"There may be some small elements that might survive pockets of fires but certainly broad scale, there would be massive destruction of anything that's caught up in these fires."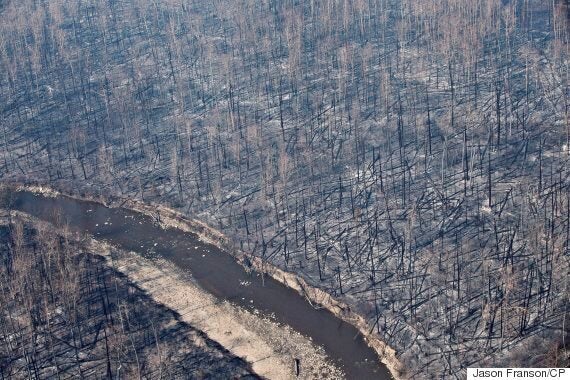 Burnt trees are shown in an aerial photo of Fort McMurray, Alta. (Photo: Jason Franson/CP)
As of Friday morning, the wildfire covered more than 2,400 square kilometres.
Fort McMurray sits in the heart of Canada's boreal forest, filled with dense, coniferous trees, lakes and wetlands. The 587 species of wildlife that call Alberta home face many of the same dangers as humans that share their habitat— from smoke inhalation to loss of their homes.
"I'm sure we'll have tens of thousands of losses," director of the Alberta Birds of Prey Society Colin Wier said, in an interview with Maclean's.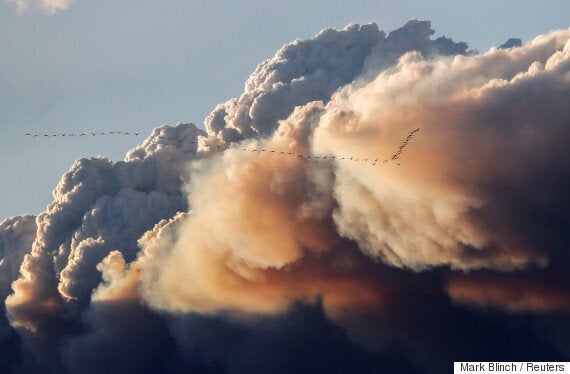 A flock of birds fly from a massive cloud of smoke near Fort McMurray. (Photo: Mark Blinch/Reuters)
Naturalist Brian Keating says the impact to wildlife from the fire could be enormous, and small animals are likely to be the hardest hit.
"I'm sure we'll have tens of thousands of losses."
Wildfires can also push animals out of their usual habitats. This bear, for example, was caught foraging in a Fort McMurray dumpster after the evacuation.
Bears are one of the species most poised to potentially benefit from a wildfire.
The ursine opportunists have been known to watch for species fleeing flames that might make for easy snacks, National Geographic reported.
The good news is that because wildfires are part of the forest's natural life cycle, the blaze might actually have some positive effects on wildlife habitat. The size and intensity of the fire might mean those benefits take longer to appear, but experts say the area will eventually recover.
"What [wildfire] does is it rejuvenates forest stands, increases habitat — just different types of habitats within the forest — and creates the diversity that boreal forest provides to all the different animals," Alberta Environment and Parks employee Dave Kay said in an interview with 660 News.
"By all indications this is a fairly hot fire, so it will burn a little deeper. It may take longer for some of the plants to re-establish, because it will burn right down to mineral soil in many areas."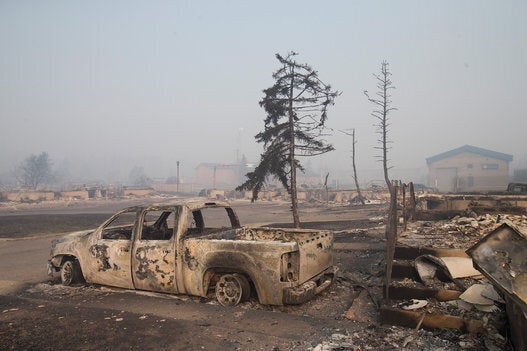 Fort McMurray Fire Aftermath (May 2016)