An extremist group in the Philippines is threatening to execute another Canadian hostage if the federal government doesn't pay a multimillion-dollar ransom.
A new video reportedly shows Canadian Robert Hall saying he'll be killed at 3 p.m. on June 13 if the government doesn't pay $16.6 million to the extremist group that kidnapped him, Canada.com reported.
"I appeal to my government and the Philippine government, as I have appealed before, for help," Hall says in the video.
Hall and fellow Canadian John Ridsdel were among four people kidnapped by Muslim extremist group Abu Sayyaf last September. Ridsdel was beheaded last month after the group demanded a ransom that wasn't paid. Abu Sayyaf has been linked to al Qaeda, according to Global News.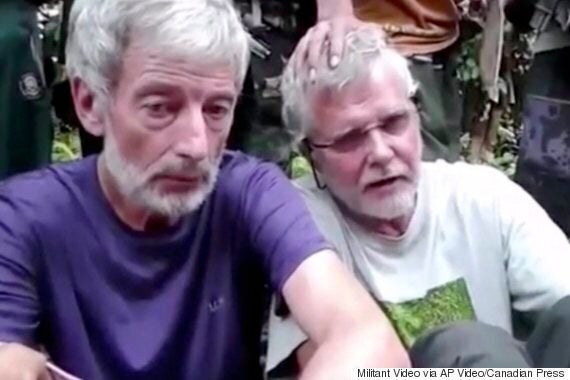 This image, made from undated militant video, shows Canadians John Ridsdel, right, and Robert Hall. (Photo: AP Video/Canadian Press)
A government spokeswoman told Canada.com the government is aware of the new video, but wouldn't comment on the details of the situation.
"The Government's first priority is the safety and security of its citizens and therefore will not comment or release any information which may compromise ongoing efforts or endanger the safety of the remaining hostages," Rachna Mishra, a Global Affairs Canada spokeswoman, wrote in an email to Canada.com.
After Ridsdel was killed, Prime Minister Justin Trudeau reiterated that Canada would never pay ransoms to terrorist organizations.
"Paying ransom for Canadians would endanger the lives of every single one of the millions of Canadians who live work and travel around the world every single year,'' Trudeau said at the time.
With files from The Canadian Press