Experts are urging Alberta communities to take action and protect themselves from wildfires, after a massive blaze swept through the northern city of Fort McMurray.
Volunteer firefighter Tom Burton says more people need to be prepared.
"Maybe five per cent of communities are FireSmarted," Burton told the Calgary Herald, mostly because of a shortage of funding and education about the program.
FireSmart, an education program by the provincial government, was established in the early 1990s to help Albertans prevent and manage wildfires.
Despite resources being available that teach communities and home owners to protect buildings from a blaze, very few parts of the province have actually taken proactive measures to keep themselves and their property safe, according to FireSmart Canada.
Just five communities are officially recognized as being FireSmart, a designation that means a community has been assessed for its wildfire readiness. Others, like Fort McMurray, may have taken protective measures but haven't been recognized by the program by completing an annual wildfire hazard assessment and evaluation.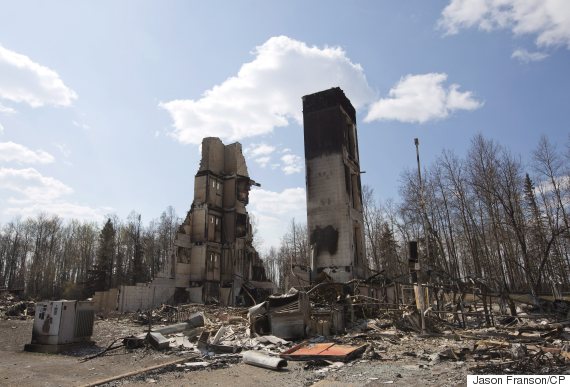 The Fort McMurray neighbourhood of Abasand was devastated by wildfire. (Photo: Jason Franson/CP)
One difficulty Fort McMurray faced was managing the massive, dense forest that surrounds it — making it an extreme example of what can go wrong when a fire gets out of control. Despite firefighters in the area regularly undertaking controlled burns, the city was surrounded by tinder-dry forests, Fort McMurray Today reported.
The blaze, which has been burning for more than two weeks, has grown to 2,800 square kilometres. It destroyed more than 2,400 structures in the city.
More than 88,000 residents were evacuated from the area.
There was likely little the city could have done to prevent the fire, as it whipped into an inferno by strong winds and high temperatures, but Fort Mac can still act as a cautionary tale for other communities.
The FireSmart guide recommends home owners thin out burnable materials around their home.
The most important area is in a 10-metre radius around a property. The best thing to do, according to the guide, is to make sure there is as little vegetation or flammable materials in that area as possible.
The same principles apply to protecting larger communities. By thinning out vegetation or piles of debris — dead brush, construction supplies — communities can lessen the risk of a wildfire spreading as it did in Fort McMurray.
"Alberta has a fire prone landscape."
Banff is one Alberta community that is at much lower risk of wildfire, thanks to both natural fire breaks — gaps between flammable vegetation and homes — and FireSmarting measures.
"The forested area in and around Banff and Banff National Park, and with the way we're laid out, you really can't compare us to Fort McMurray in that respect because of the natural fire breaks," said Banff fire chief Silvio Adamo in an interview with the Rocky Mountain Outlook.
Adamo said the town has put in additional work to prevent fires by thinning the forest and undertaking regular, prescribed burns.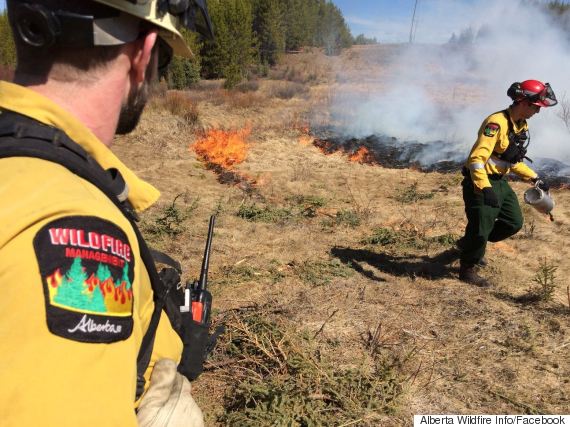 Alberta firefighters execute a controlled burn. (Photo: Alberta Wildfire Info/Facebook)
"Alberta has a fire-prone landscape, which, in the absence of fire, can accumulate a significant amount of burnable fuel. Areas with dense forest cover, low-hanging branches, or an accumulation of woody debris provide an opportunity for wildfires to spread quickly," reads the province's FireSmart guide.
"Maybe five per cent of communities are FireSmarted."
The lesson of thinning out burnable material was one Slave Lake's fire department learned the hard way.
In 2011, when a massive wildfire swept through the area, one of the many buildings destroyed was the town's fire hall.
"Looking back on it, a bunch of spruce trees led right up to it. We had a bunch of pallets that we used for training stacked up maybe 10 metres away from the fire hall," Lesser Slave Lake regional fire chief Jamie Coutts told CBC News.
Now, the fire hall has been completely rebuilt. Its lawn is kept short, and there are no trees nearby.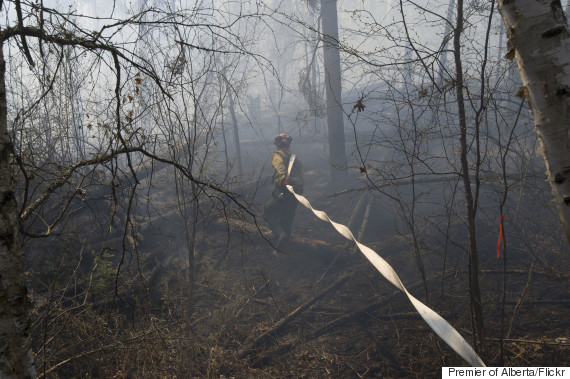 Firefighters work to extinguish hot spots near Fort McMurray. (Photo: Premier of Alberta/Flickr)
Unfortunately, some towns face an uphill battle when trying to fire-proof their communities.
Edson fire chief Al Schram says the city has found it difficult to create fire breaks — cleared strips of land that can stop a wildfire from spreading — due to the amount of privately-owned land near the town.
"On private land, it is the owner's responsibility to do that [take fire precautions] – we can't just go on to private land to help mitigate some of those things," Schram told the Edson Leader.
The only time fire officials can clear land without an owner's consent is during a state of emergency. The entire province of Alberta is currently under a state of emergency, as declared by Premier Rachel Notley on May 4.
State of emergency
One Fort McMurray resident credits the FireSmart rules for saving his home from the wildfire last week.
Coun. Allan Vinni met a fire-prevention officer at a community barbecue a few years ago. The officer suggested Vinni cut down a bunch of old trees around his acreage.
"Honestly, I think acting on everything that guy told me had something to do with the fact that our house didn't burn down," Vinni told the Calgary Herald.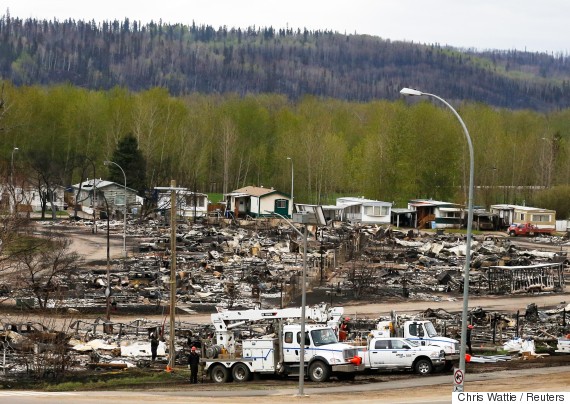 Crews work to restore utilities in the Waterways neighbourhood of Fort McMurray. (Photo: Chris Wattie/Reuters)
Vinni's story demonstrates how education can be an important step in preventing wildfires.
"In California even schoolchildren learn about earthquakes and in Alberta, wildfires are our kind of earthquakes," Edward Johnson, University of Calgary wildfire expert, said in an interview published to the university's blog.
The professor said Albertans can learn a lot from disasters like Fort McMurray and Slave Lake.
"We've learned from these events and others that planning before something ever happens is very important," said Johnson.
"You can prepare your house so that it is less susceptible to fire risk. You can make sure family members have a way to communicate and a place to meet if they were to become separated during a disaster."
Also on HuffPost
Fort McMurray Wildfire (May 2016)