Nick Jonas signed up for a musical carpool, but he got hit with an interrogation.
On last night's edition of "Carpool Karaoke," "The Late, Late Show" host James Corden drove with Demi Lovato in shotgun and Nick Jonas in the hot seat, er, back seat.
It took no time at all for the spotlight to be put on the 23-year-old Jonas brother's past relationships.
"Nick, you're dating seemingly everyone, and then who else?" Corden teased.
Hands in his lap, Jonas, who's rumoured to be currently dating Kate Hudson, laughed and offered a mildly sarcastic "Yes", but didn't say much more.
So of course, long-time friend Lovato, who also dated his brother Joe in the past, helped jog his memory.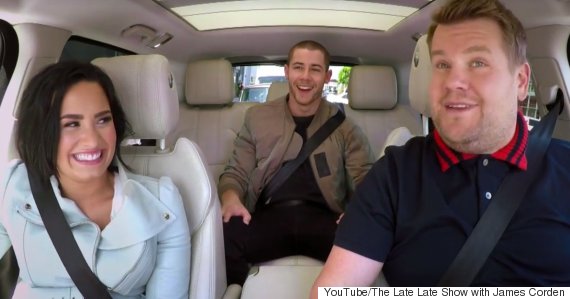 "Miley [Cyrus], and then back with Selena [Gomez] and then back with Miley," she named off.
The "Confident" singer and Jonas will kick off their "The Future Now" joint tour this summer, and after more than 10 years of friendship, the two have a lovable bond.
Lovato and Corden relentlessly quizzed him and at one point the host inquired about Nick's old purity ring, and when he decided to stop wearing it after his early relationships.
"I had a real relationship with an adult, and I fell in love actually," Jonas shared. "I decided that it was time to take my purity ring off."
Fortunately for Jonas, whose new album "Last Year Was Complicated" comes out in June, his love life wasn't the only topic of discussion.
They moved onto questions about intense fans, getting tied up and, of course, karaoke.
Check out the full video below to see them belt Lovato's "Heart Attack," Jonas' "Close," DNCE's "Cake By the Ocean" and put on an impromptu street performance.
Also on HuffPost
Dream Carpool Karaoke Stars