Everyone seems to have an opinion on Sophie Grégoire Trudeau's recent admission that she could use some extra help managing all the responsibilities of being the wife of Canada's prime minister.
In a recent interview with Quebec's Le Soleil newspaper, Grégoire Trudeau said: "I'd like to be everywhere, but I can't. I have three children at home and a husband who is Prime Minister. I need help. I need a team to help me serve people."
And that set off a firestorm. The Conservatives tore into her, saying Laureen Harper didn't need any help. And the NDP suggested she's out of touch with the workload of working moms in Canada.
Many Canadians also weighed in, suggesting Grégoire Trudeau doesn't actually have official duties and has enough help already.
But then Amanda Brennan, an Ottawa mom, quietly posted an open letter to Grégoire Trudeau that is being shared widely across Facebook.
"Dear Sophie Gregoire-Trudeau," Brennan opens. "I don't know what it's like to be you. I don't know what it's like to have three children under the age of eight. I don't know what it's like to be the wife of the Prime Minister and represent Canada on the world stage. I don't know what it's like to be a spokesperson for multiple charities, and I certainly don't know what it's like to have everything I say, wear, or do splashed all over the media for people to critique."
She goes on to point out that women are supposed to be "superheroes" who do everything with a smile and can never admit they need any help. "As a woman, I support you... Your life is unlike anyone else's in the country and it can't be compared to the 'average Canadian woman.'"
Brennan doesn't agree with people "losing their minds" over the fact that the Trudeau family has nannies: "Your children are being cared for by their parents and by their nannies, and to me, that's what's important. Your children having stability in an unstable world is what's important, not the petty 'I don't have what you have so you shouldn't have it either' mentality that is all too common."
The Ottawa mom sees nothing wrong with Grégoire Trudeau needing another assistant, either, considering all the work she does with charities and representing Canada on the world stage. "People are saying you don't have a job, you don't work, but they're wrong. You work every day, you just don't draw a salary for the work you do. Your work might not be paid, but it's invaluable to those it helps."
At the end of her letter, Brennan delivers a powerful message: "We live in an age where we want our kids to stop bullying. We want our children to never know the sting of being picked on, but as adults we sit around and use our computers to bash, critique and lie about people we don't know because we feel entitled to say whatever we want."
Brennan's letter has definitely hit a nerve with more than 59,000 shares and many supportive comments.
"I've seen so many Facebook posts slamming her and it breaks my heart. Thank you for putting into words what I could not," wrote one woman in response to the letter.
"Very eloquent! Michelle Obama has a staff of over two dozen people supporting her, so I don't see why Sophie can't have more than one assistant if she plans to play a more active role," wrote another.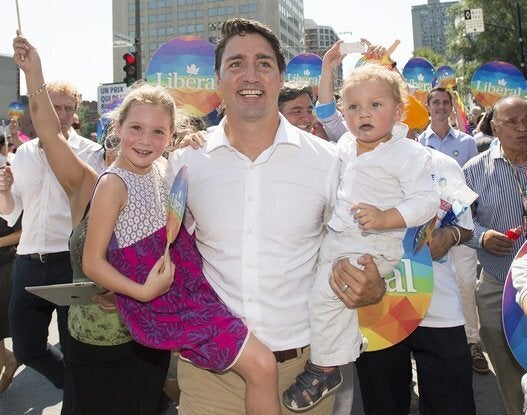 All The Times Trudeau's Kids Stole Our Hearts In 2015